Posted on Tuesday, Mar 31, 2015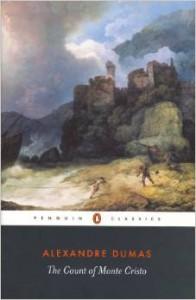 Since this is my very first blog ever, I'd like to recommend my most favorite book of all time:  The Count of Monte Cristo by Alexandre Dumas.  This epic novel is not in our Book Madness bracket, most likely because I forgot to submit it.  Because it was originally serialized, each chapter is full of action and the book reads more like modern-day authors David Baldacci and Brad Thor.
Before he became The Count, Edmond Dantes was a naive merchant sailor with a life full of happiness.  That changes when he is sent to the foreboding Chateau d'If for reasons unknown to him.  After his "release", he methodically wreaks vengeance on those he deems responsible, but also helps others he believes are worthy.
If you don't have the time for 117 chapters or are just a bit daunted, we have a 4-part TV mini-series (starring Gerard Depardieu; 1998) and the 2002 theatrical version (starring Jim Caviezel).  There are also many revamped versions including:
Since I am a fervent fan, I've also read The Black Count: Glory, Revolution, Betrayal, and the Real Count of Monte Cristo by Tom Reiss.  This is a biography of Alexandre Dumas's father who served as an inspiration for the novel.
Edmond Dantes is a complex character and the plot is quite intricate - with every re-reading I discover something new.  The Count of Monte Cristo is a classic because its themes still resonate today.
Categories
Recent News