Posted by Kara on Thursday, Nov 2, 2017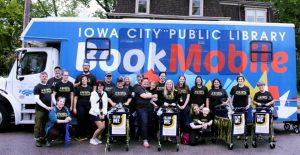 Yowza - it's November! Suddenly I'm thinking about holidays and winter weather. The Bookmobile will have a few schedule changes because of the holidays and concluding the Fall Schedule on Thursday December 21. Full Bookmobile schedule information is available at www.icpl.org/bookmobile
The Bookmobile will not operate on Wednesday November 22 and Thursday November 23 in honor of the Thanksgiving holiday. The Bookmobile Fall Schedule ends on Thursday December 21 and starts up again on Monday January 8, 2018.
On days when the Bookmobile is not in service, but the Library is open, Holds and ILLs may be picked up at the Library. We will not capture any holds when the Bookmobile is not in service, so there may be a period of time when the Bookmobile is on break when holds will be at the Library waiting for pick-up. Don't worry, though, because the 7 day waiting period for picking up a hold does not begin until we "trap" the hold. That's when we send the eMail, call you on the telephone, or mail your Hold Pick-up Notice.
And speaking of ILLs (Inter-Library Loans), beginning November 1 you can choose your ILL pick-up location: Downtown Library or Bookmobile. As a patron recently stated, "This Bookmobile just keeps getting better!"
If you are wondering about winter weather and Bookmobile service, check out this blog post.
We'll see you on the Bookmobile!
Categories
Recent News