Posted by Heidi L on Wednesday, Feb 21, 2018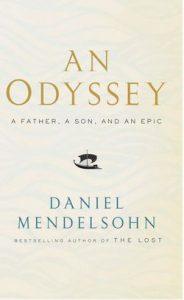 I have just finished two special books about fathers and highly recommend both. I took them home because of the titles: "An Odyssey" (I was a Classics major), and "The Wine Lover's Daughter" (I do enjoy a glass of wine). While I learned much about Odysseus, and about Clifton Fadiman and wine, mostly I was touched by the relationships between the adult children and their fathers who are the subjects of these memoirs.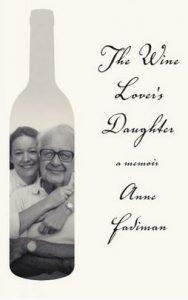 Author Daniel Mendelsohn is a classicist who teaches literature at Bard College. "An Odyssey: A Father, A Son, and An Epic" is about the semester his 81-year-old research scientist father joins his seminar on Homer's Odyssey.  The elder Mendelsohn provides commentary in class that often is in stark contrast to that of the young undergraduates--and frequently in opposition to his son's professorial ideas as well.  After the seminar, the father and son decide to join an educational Mediterranean cruise that traces Odysseus's homeward journey. The book blends the telling of these two experiences as it takes us through the Odyssey, and is rich in emotion and humor. Their adventure will remind sons and daughters that there likely are many facets of their parents' lives that are unknown to them, until the circumstances are right to hear the stories. You need not have read the tale of Odysseus to enjoy this book, although if you have studied the Odyssey you will probably come away with some fresh insights about it.
In the book's introductory chapter, Mendelsohn says "it is a story, after all, about strange and complicated families...about a husband who travels far and a wife who stays behind...about a son who for a long time is unrecognized by and unrecognizable to his father, until late, very late, when they join together for a great adventure...a story, in its final moments, about a man in the middle of his life, who at the end of this story falls down and weeps because he has confronted the spectacle of his father's old age, the specter of his inevitable passing..."  He is speaking of Odysseus, and his son and father, but we also will learn that it is about something much closer to home.
Anne Fadiman is the wine lover's daughter, and this is a book about her relationship with her father Clifton Fadiman. Although she is the well-known author of Ex Libris and The Spirit Catches You and You Fall Down, her father perhaps was even more famous in his time: an editor-in-chief at Simon & Schuster, book critic for The New Yorker, a Book of the Month Club judge for forty years, and emcee of the NBC radio quiz show Information Please. And from an early age, he also educated himself about wine and began creating a wine cellar that ultimately reflected his extensive knowledge and savvy acquisitions. He co-authored two editions of The Joys of Wine.
Clifton Fadiman came to all of this through relentless hard work, and a quest for self improvement that would raise him above his humble beginnings in Brooklyn, New York and life with his parents, recent immigrants. He studied how to speak without an accent, how to dress, how to eat, and what to drink. Despite his successes, he never felt entirely comfortable that he had achieved the level of society that he wished for.
The love he showed his children is evident however:  he nurtures the talents in his children, and generously teaches them about wine.  Anne Fadiman's burden is that she doesn't really enjoy wine, although she desperately wants to in order to please her father. A fun thread of the book describes her efforts to determine scientifically why she doesn't like wine. And while there is an element of competition with him in her early writing career, it seems primarily self-imposed and she always credits him with influencing her to be a reader and writer.
And what can be better than books and wine? Fadiman writes "My father had long associated books and wine: they both sparked conversation, they were both a lifetime project, they were both pleasurable to shelve, they were the only things he collected. The Joys of Wine called wine cellars 'wine libraries'."
Like Mendelsohn's book, this also is about an adult child coming to terms with an aging father, learning that father's full story, and sharing much love and warmth along the way.
Recent News