Posted by Mari on Thursday, Feb 15, 2018
I have always been a craft dabbler. In high school I learned how to sew when I made Juliet's dress for my final project during Romeo & Juliet. It was the one of the dresses in the class that looked "mom interference-free." Collaging in college. I've made exactly 1 quilt. I learned how to knit but for me it was not the relaxing pastime advertised.  My latest craft dabble has been embroidery, which was a past hobby revived after I attended embroidery classes offered at the library this past fall. This hobby has seemed to stick longer than most, and I thought I would share some great resources I've come across over the past few months. Hand embroidery has recently become modernized and popular again. It translates really well from drawings and paintings and offers lots of options to express sentiments and pop culture references. If it can be drawn or traced, it can be embroidered. Supplies are inexpensive and easy to obtain at craft stores and even second-hand stores. I hand embroidered personalized gift for friends and family for the holidays. Since I've started posting pictures of works-in-progress and finished pieces on Instagram, a lot of my friends have told me that I have inspired them to pick up the hobby.
Getting Started:
There are over 200 different kinds of embroidery stitches, but most projects only require knowledge of the basics. Craftsy has a great tutorial offering instructions with pictures of the top ten most commonly used stitches.
My favorite way to learn a new stitch is to watch a YouTube video and stitch along. That way I can pause, start over, and repeat until I have the stitch mastered. The YouTube channel I frequent the most is Mary Corbet's Needle 'n Thread. Her videos show the stitch clearly, at a good pace, and she offers tips as she goes. 

A great place to start for patterns is DMC.com. They offer over 250 free patterns with tutorials ranging from beginner to advanced. DMC is a popular thread company, so you can easily "Buy the Kit" to order the thread needed to complete the pattern. DMC patterns are made from collaborations with artists, and new patterns are added every week. I have close to a dozen patterns saved that I hope to create eventually!
The Books: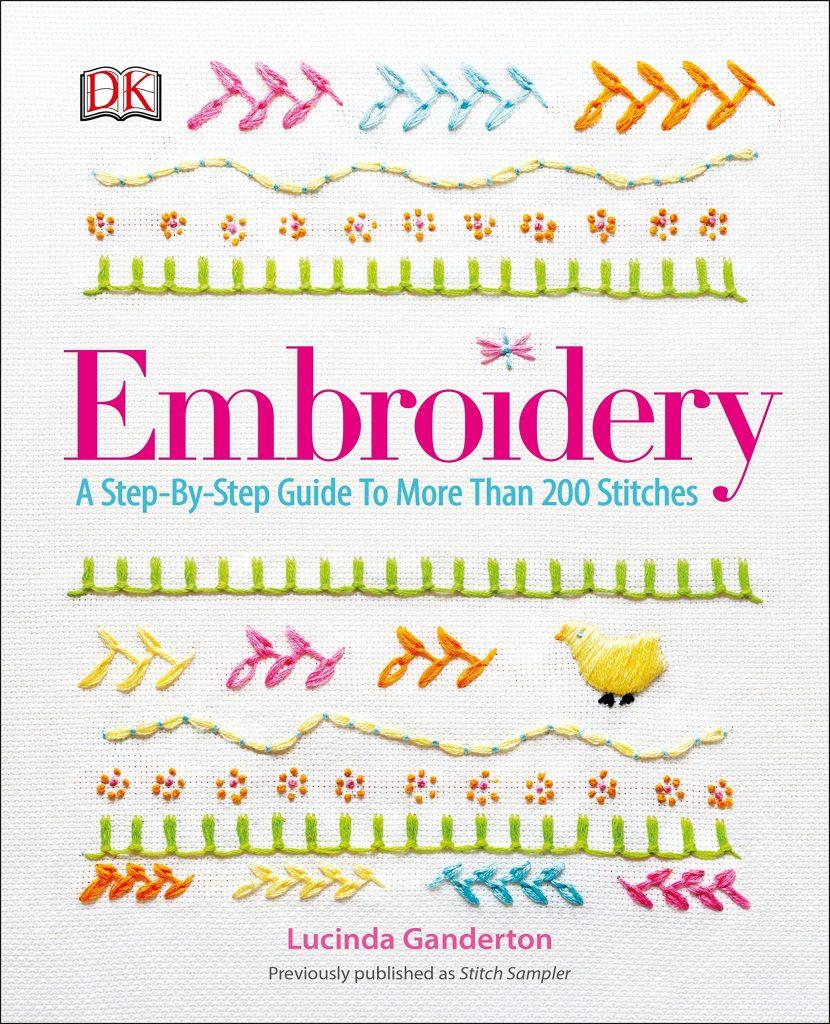 Embroidery : a step-by-step guide to more than 200 stitches by Lucinda Ganderton
This book offers the perfect reference guide to to inspire and inform sewers of all levels. Find advice on which thread, needles, or fabrics work with which techniques, and take a look at an incredible 200 stitches with levels of difficulty, step-by-step instructions, and ideas on where and how to use them.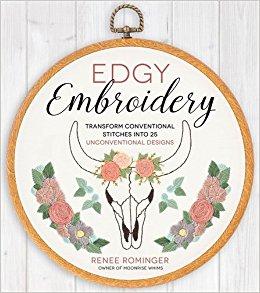 Edgy embroidery : transform conventional stitches into 25 unconventional designs by Renee Rominger, owner of Moonrise Whims
I have enjoyed creating several patterns from this book. I followed Moonrise Whims on Instagram for years and was thrilled when she published a book featuring some of her edgy yet feminine patterns, such as a cow skull with a floral crown. Her patterns showcase the modernism of embroidery. It's not just for grandmas and nurseries!
Here's two skulls I made last week.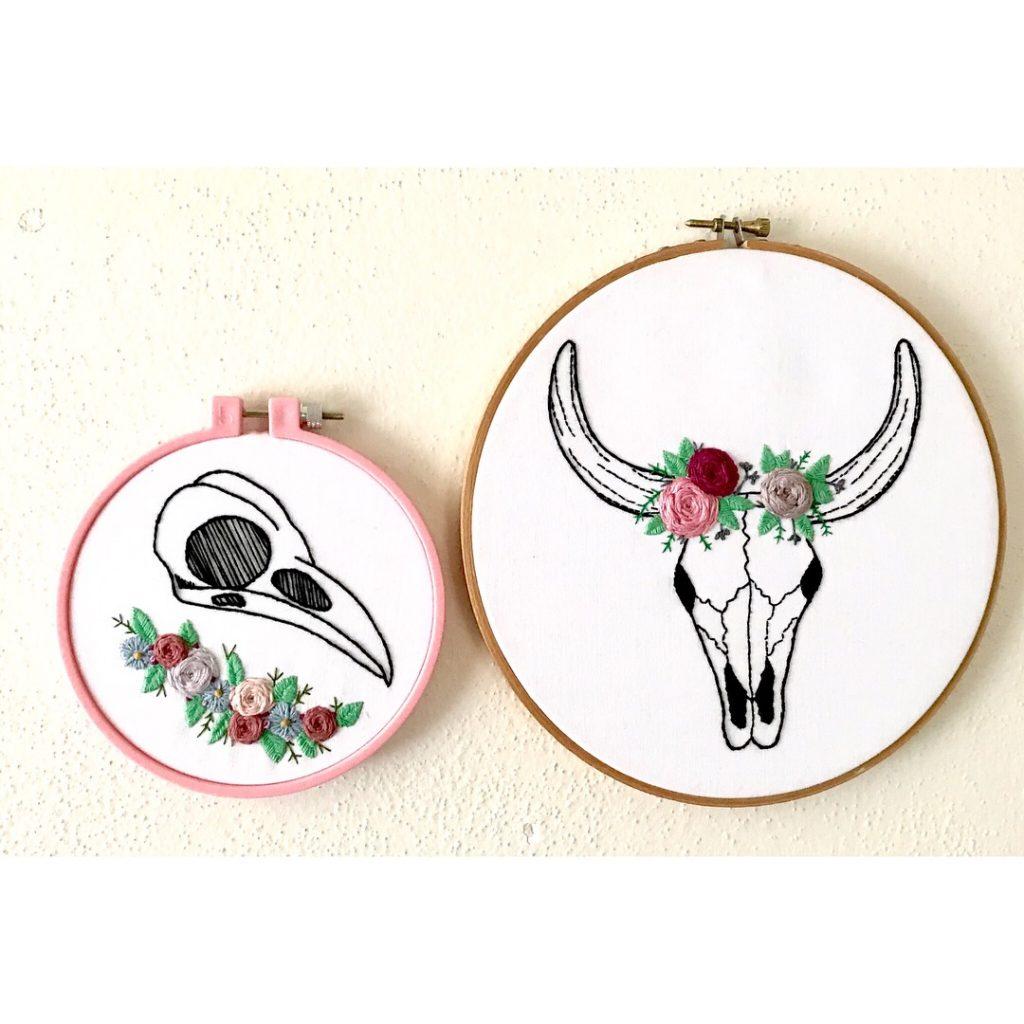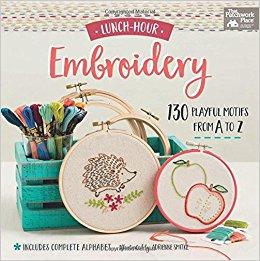 LUNCH-HOUR Embroidery : 130 playful motifs from A to Z by Adrienne Smitke
Finishing one of these cute little projects over a lunch break might be a stretch, but all the patterns are super simple and quick and easy to work on here and there. My favorite page in this book is C for Coffee, Camera, and Camper!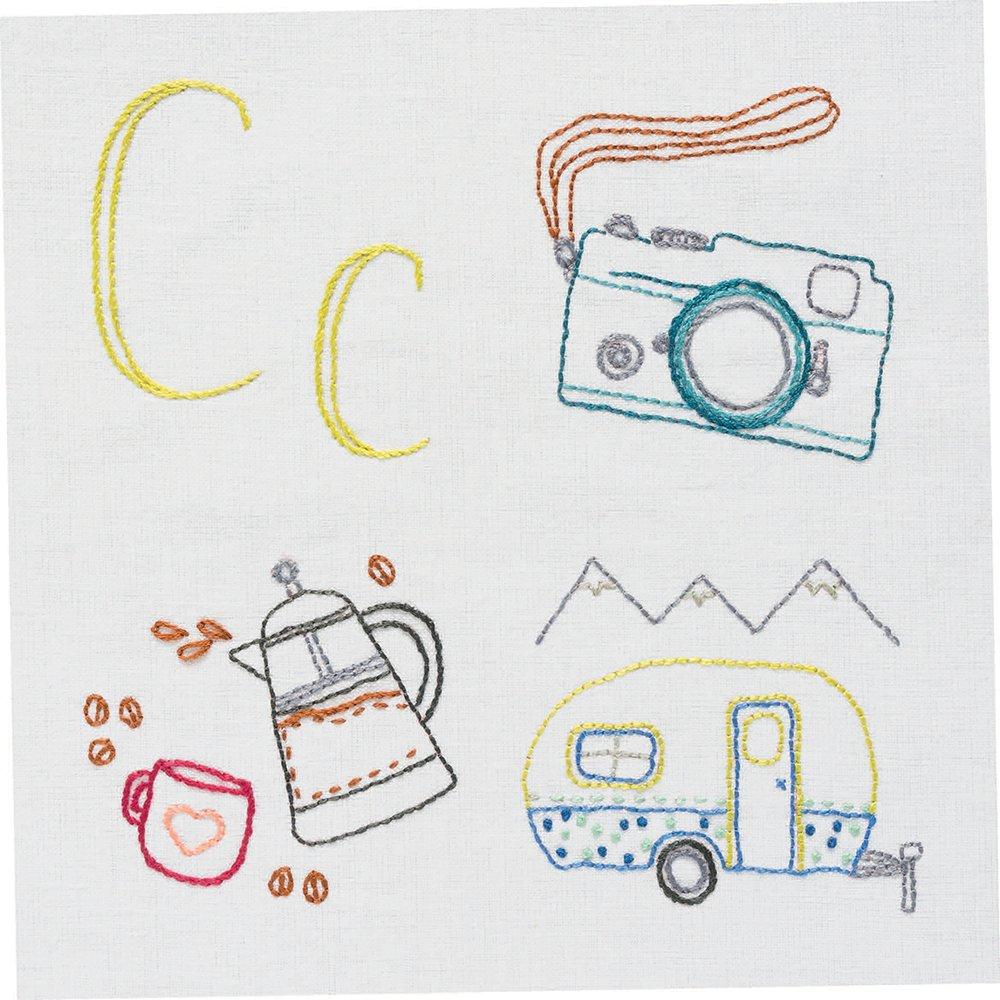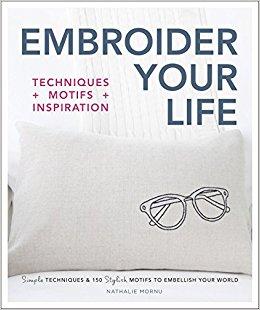 Embroider your life : techniques + motifs + inspiration : simple techniques & 150 stylish motifs to embellish your world by Nathalie Mornu
This book is brand new and full of neat little designs to add a little flare to your clothes, jewelry, and home. Some of my favorite designs from this books are potted cacti, a Rubik's cube,  and onion dome churches in Russia! This book also includes instructions on how to turn a photo of your house into an embroidered piece of art!
Misc. Pattern Makers Online:
Cozy Blue Handmade Liz has PDFs, iron-on transfers, pre-printed fabrics and more. Her patterns are super simple and very adorable and affordable.
Namaste Embroidery Jessica sells PDFs, jewelry kits, supplies, and has great tutorials. Her work is great if you are looking for floral work with the "paint with threads" look.
A·FERA Handmade Alina has tons of fantastic PDFs for sale, including lots of mystic, American Traditional style creepy things like skulls, and well, mostly skulls.
FaimyCrossStitch Kseniia sells PDFS of both embroidery and cross stitch patterns. Most of her embroidery patterns are satin stitch detail city landscapes of practically every major city in the world. These are more advanced patterns but would be a great personalized gift!
As a children's book lover, I'd also like to mention that children's book illustrations and coloring books can be a wonderful source of inspiration as well! Now go forth and stitch!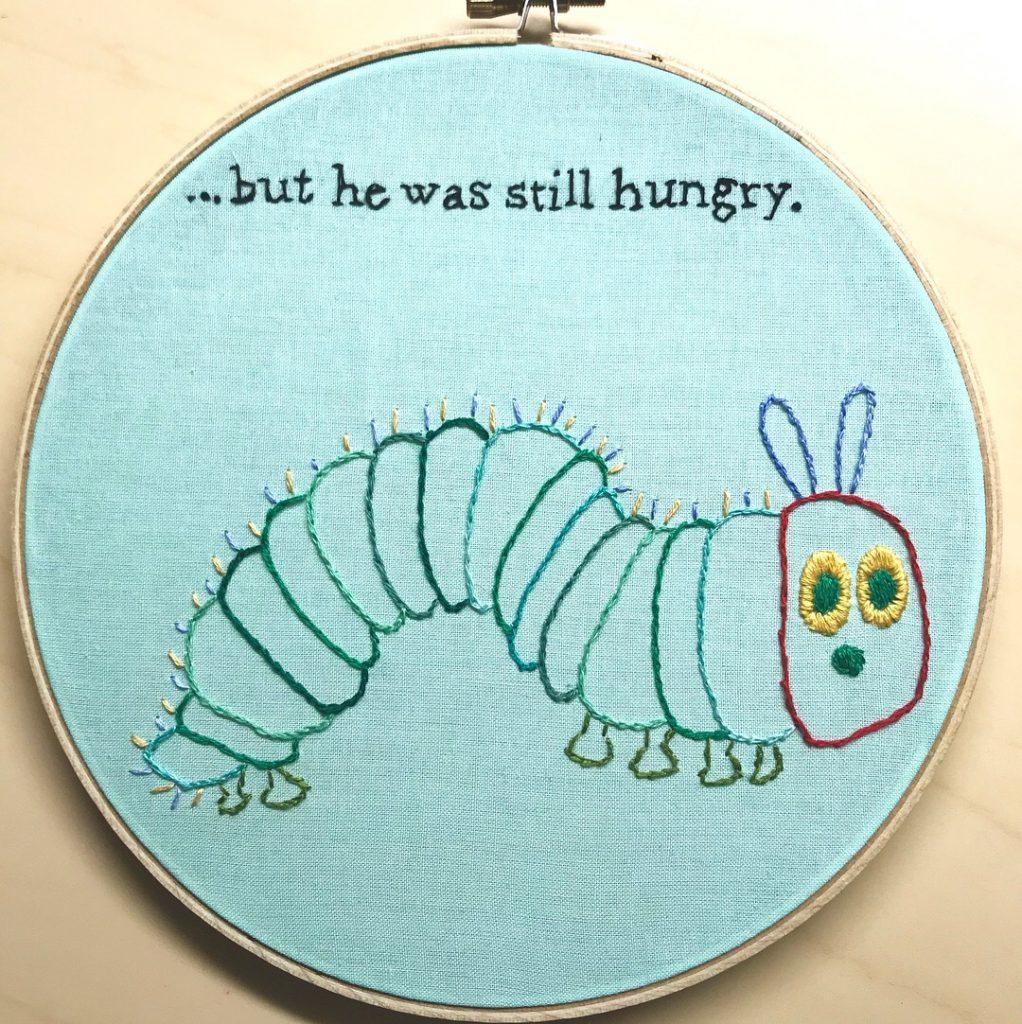 Categories
Recent News