Posted by Heidi L on Tuesday, Feb 13, 2018
Coming soon is the Iowa City Archives Crawl, and to get you in the mood we have set up a display of objects from the Iowa City Public Library's archive.  The display is on the second floor near the Information Desk, and has a lot of interesting things in it--but first, some details about the Crawl: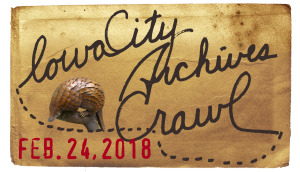 The Archives Crawl is on Saturday, February 24, 2018, from 11:00-3:00 and includes special activities at ICPL, the State Historical Society, the University of Iowa Museum of Natural History, and the University of Iowa Main Library.  (A bonus fifth site has just been added:  a Dada Futures exhibit at UI Memorial Union.)
The website for the Crawl invites you to "snoop in between the pages of historic diaries, read other people's mail, hold feathers and fossils, and peer into mysteries revealed by historic artifacts like swords and locks of hair kept in remembrance."  It is sponsored by the UI Obermann Center for Advanced Studies, and you can see a listing of events here.
Iowa City Public Library has short presentations every half hour, on topics such as genealogy, using our local history resources, and "Iowa City's Most Famous Athlete You Never Heard Of".  The full, fun list is here.  We have also invited the Johnson County Historical Society, the Friends of Historic Preservation, and Historic Foodies to join us and display information about their organizations.
But back to the display of ICPL history.  It was both a fascinating and frustrating task to choose items from our archive cupboards to include in the display:  frustrating because it was difficult to put things back when I realized I didn't have room for everything, fascinating because ICPL is 120 years old and, thank goodness, we have saved a lot of interesting stuff.
The oldest object I found dates from around 1870, a book that has a book plate in it from the "Iowa City Library Association," a proprietary library that loaned materials to Iowa City residents who purchased memberships in the Association.  It was active from 1870-1873, 25 years before the Iowa City Public Library was founded.
Another special book is ICPL's first accession book, in which the first purchases for the Public Library were recorded.  You can see what those titles were if you take a look at the display (and, we still have copies in our collection of some of those early acquisitions).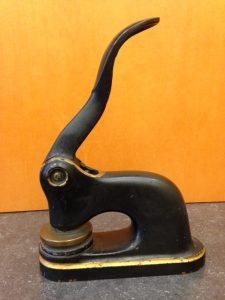 We've also included the 1926 rules for borrowing materials, a cast iron property stamp embosser, the 1959 dress code for Library employees, a beer box, and a jar of dirt.  Check out the display and find out why!
We hope the displayed objects provide you with an appreciation of just how old this Iowa City institution is, and that the more recent photos will bring back memories of your past experiences at the Iowa City Public Library.  The display will be up until March 4th--and don't forget the Iowa City Archives Crawl on February 24th.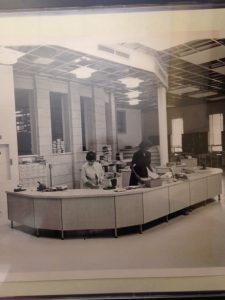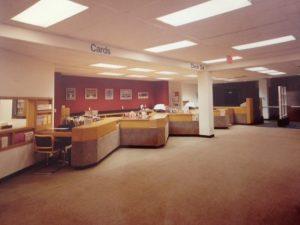 Left:  Checkout desk in new 1963 Carnegie Library addition.
Right:  Checkout desk in the new library at 123 S. Linn St., 1981.
Recent News