Posted by Kara on Tuesday, May 1, 2018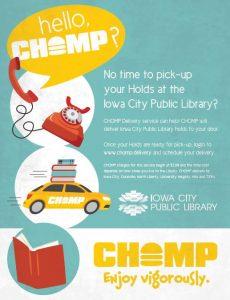 No time to pick-up your Holds at the Iowa City Public Library? CHOMP Delivery service can help! Beginning Tuesday May 1, CHOMP will deliver Iowa City Public Library holds to your door.
Once your Holds are ready for pick-up at the Downtown Library, login to www.chomp.delivery and schedule your delivery. CHOMP delivery charges for this service begin at $2.99 plus a $1.49 convenience fee. The total cost depends on how close you live to the Library. CHOMP delivers to Iowa City, Coralville, North Liberty, University Heights, Hills and Tiffin.
CHOMP is a locally-owned delivery service. Although CHOMP traditionally delivers food, they are offering the convenience of delivering Holds from the Downtown Library during regular Library hours. A CHOMP account is required for this service and delivery fees apply.
For more information, navigate to www.chomp.delivery or contact staff at the Iowa City Public Library.
Recent News