Posted on Monday, Jan 30, 2012
Retirement Reception for Debb Green
Children's Services Coordinator at the Iowa City Public Library
FRIDAY, FEB. 24
3:30-6:30PM
MEETING ROOM A, ICPL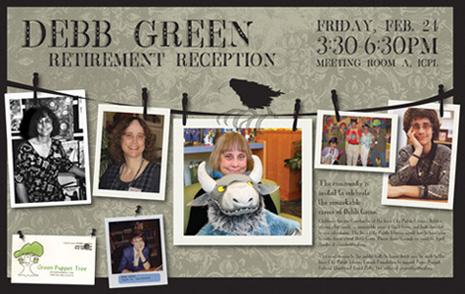 The community is invited to celebrate the remarkable career of Debb Green, Children's Services Coordinator at the Iowa City Public Library. Debb is retiring after nearly 24 memorable years at the Library and looks forward to new adventures.
The Iowa City Public Library would love to hear your favorite stories about Debb Green. Please share through an email to April Harder at publicrelations@icpl.org.
This event is open to the public. Gifts to honor Debb may be made to the Iowa City Public Library Friends Foundation to support Popo's Puppet Festival. Questions? Email Patty McCarthy at pmccarthy@icpl.org.