Posted by Kara on Thursday, Jul 28, 2016
D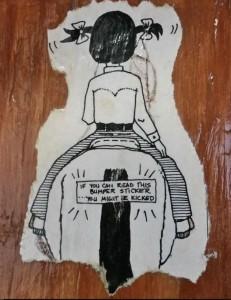 ecoupage is back in style! Recently I discovered a couple books in the Library's collection about decoupage using Mod Podge, and it brought back a flood of happy childhood memories.
My friends and I used to make decoupage gifts for one-another. One of my favorites is displayed in my office - a cartoon from Western Horseman my friend decoupaged onto a board showing a girl riding a horse. The caption is "If you can read this bumper sticker ... you might be kicked." (It still makes me giggle.)
I also remember working with my Mom to make decoupage gifts for the holidays - one year we decoupaged our school pictures onto small boards as a gift for our grandparents.
According to wikihow.com/decoupage, "Decoupage—from the French word découper, meaning to cut out—is a craft or art form that entails pasting cut-outs (typically paper) to an object and then covering them with several coats of varnish or lacquer. The process gives flat cut-outs an appearance of depth and makes patterns and pictures look as though they are actually painted on the decoupaged object."
I've been looking for some ideas for  the Library's Arts and Crafts Bazaar on December 3rd and I found some decoupage ideas I'm planning to explore. From the book, I also discovered there are many different kinds of Mod Podge including Sparkle, Dishwasher Safe, Fabric, Hard Coat and Outdoor. Oh the possibilities!
If you are looking for some fun crafting ideas for hot summer days, you might consider making something with Mod Podge. I promise I'll return the books soon. If you can't wait for the books, check out modpodgerocksblog.com or plaidonline.com/decoupage for some fun ideas. If you'd like to make a couple extra items to donate to the Arts and Crafts Bazaar, that would be great - thanks!
Categories
Recent News