Posted by Meredith on Thursday, Jul 13, 2017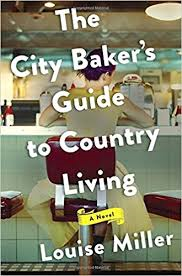 Every other Thursday, I join two other Library staff members to refresh our first floor book displays. It's a great chance to have fun with puns – you've seen our signs; we love 'em! – and shine the spotlight on various items in our collection. It's always a rush when a book (or movie or CD) you chose for the display is checked out by a patron.
Another thing I love about Refresh Thursdays is that it gives me a chance to peruse the Library's collection and find something new for myself. Not that I need help filling out my TBR (To Be Read) pile. It's not a pile. It's a bookshelf. A real one at home (I used to buy books before I started working at ICPL) and a virtual one on my Goodreads account.
And yet I still browse.
One of the books I recently checked out after coming across it on the Library's shelves is The City Baker's Guide to Country Living by Louise Miller. I love books about food, especially dessert, so when the blurb described the story of Olivia Rawlings, a Boston pastry chef who flees to Vermont after setting fire to more than her dessert at a work engagement. Olivia's weekend away turns into more after she secures a new job as the baker at Sugar Maple Inn. But small towns have their secrets and Olivia learns she wasn't hired just for her magic with sugar spice and everything nice.
This is the kind of story you expect to be cute and it is, but there's so much more going on, too. It's about second chances and family, food and small towns, commitment and fear, expectations and competitions. It was the perfect follow up after a couple of heavier reads that left me feeling frustrated and overwhelmed. It's not fluffy, though. There's layers to this book -- but that's a cake term and Olivia is all about pies.
Speaking of pies, you're going to want one – or more – while reading this book. You might want to stock up just in case.