Posted by Brian on Wednesday, May 11, 2016
I really love amusement parks--the towering roller coasters, delicious food that's super awful for you and beloved characte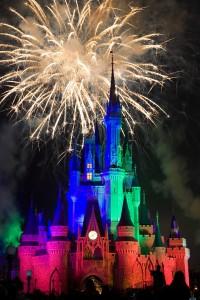 rs walking around for photo ops.  The crown jewels of American amusement parks are Disneyland and Disney World.  There's a lot of debate online about which park is better.  The differences are obvious: Disney World is much, much larger than Disneyland.  Disney World is a ridiculous 43 square miles, which is almost twice as big as Manhattan, and it contains four (!) different theme parks and two water parks.  Disneyland is smaller, but it's the original and dense with things to do.  As an unabashed Disney movie fan, I'd be happy at either park.  My family is planning a trip to Disney World this summer, and the Library has resources to help figure things out.  I swear, we are going to have a magical time or else!
There are oodles of travel books that you can consult for your Disney World vacation.  The first I grabbed was Birnbaum's 2016 Official Guide to Walt Disney World.  It's official, so you know it can be trusted :)  Right off the bat, the book gives recommendations on the best time to go to Disney World.  We're going in June, which they rated as "Most Crowded" and totally not the time to go.  Whoops!  It says to expect waits "of as much as two to three hours (or more)" for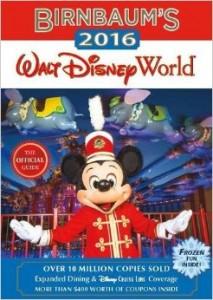 popular rides and attractions.  That's OK.  We can make that work.  The rest of the early sections of the book focus on the logistics of getting to the park and paying for it (including making a budget--food is expensive in Disney World).  The really good stuff is the sample schedules.  Those gave me an idea of what all we can plan to do, because it's impossible to see and do everything.  The schedules have a list of "Musts," which are the attractions that they highly recommend.  They also have "Line Busters."  Those are attractions that have shorter or faster-moving lines for when the park is busy.  The amount of stuff that you can experience at these parks can be overwhelming, so these schedule sections have been invaluable.
One of the other books that was helpful was The Unofficial Guide to Walt Disney World with Kids (unofficial--sketchy, I know).  This one kicks off with a discussion of how old your kiddos should be to get the most out of the parks.  Again, we have failed the book.  They think the ideal age is 8-12.  Our oldest just turned six, and our youngest is two and a half.  The authors do admit that how well your children do is a case by case basis.  We just had friends who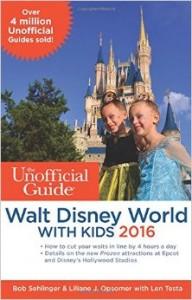 brought their five-year-old, and they said the trip was a success.  I think our kids are outgoing and energetic enough for us to get a lot out of the parks.  The book recommends that, if you're taking kids younger than their suggested age, there's prep work to help make the experience better.  Part of that prep work is figuring out which rides are better for those younger kiddos.  Luckily, this book breaks down every ride and attraction to let you know the appeal factor by age and if there is any "fright potential" for the youngins.  Should we go to The Haunted Mansion?  Nope!  Nightmare City--Population: Our Daughter.  How about Peter Pan's Flight?  Super safe.
Obviously, there are a lot of books that you can read to help plan your trip.  I was curious if there were any helpful articles in Ebscohost, so I did a search in Catalog Pro for "Disney World" after selecting the "Articles" tab.  One of the first hits was "The Best Disney for Your Family" from Scholastic Parent & Child.  It breaks down by age the best park to experience.  For Ages 3 to 5, they say The Magic Kingdom is the way to go.  YES!!  That's what we had planned.  I didn't let the article down.
The internet has you covered too.  There are sites devoted to getting the most out of your Walt Disney World visit.  I was impressed by Walt Disney World Prep School.  They've created a six step planning process for a trip.  Step Six is "Add Extra Magic," so you know they aren't messing around.  I'm hoping for at least a regular amount of magic on the trip.  Honestly, the thought of the whole thing makes me tired, so wish me luck.  I'm sure we'll have a blast, and I'll invite everyone over to our house to look at pictures from our vacation when we get back.
Recent News