Posted on Thursday, Aug 16, 2012
Whether you're new to Iowa City, or just new to the Iowa City Public Library, this fall the Library encourages you to explore all the Library has to offer. Start by getting your library card today!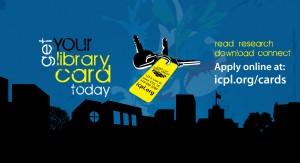 What can you do with your card?
Read: You can use your card to check out materials from the Iowa City Public Library's collection, including books, videos and music. Search through our online catalog for more ideas.
Research: On top of the ability to check out materials from ICPL's extensive nonfiction collection, your card gets you access to our large collection of premium databases.
Download: Using your card on any computer, even from the comfort of your own home, gets you access to ICPL's digital collection. This includes eBooks, eAudiobooks and eVideos as well as local music from our Local Music Project.
Connect: A library card gets you access to ICPL's on-site public computer stations for Internet usage and access to some common software.
Getting your card: You Can Now Apply Online
You can apply for a card by visiting http://www.icpl.org/cards/
After completing the online application, stop by the Library within two weeks to pick up your card. Please be prepared to show identification and proof of your residence address (current driver license, lease or voter registration card; mail with a current post mark; preprinted checks from a bank).
Apply in Person
Stop by the Cards Desk at the Library at 123 S. Linn Street in downtown Iowa City at any time to complete a paper application for a card. Library staff will prepare your card.
Help with existing cards
For help with lost, stolen, expired, or otherwise usage impaired cards, please contact the Cards Desk at 319.356.5200.
Please note: Access to some premium online resources, including Local Music Project content, require a current Iowa City Public Library card and a password and because of licensing restrictions are available to residents of Iowa City and areas covered by contracts for Library service: rural Johnson County and the cities of Hills and University Heights. If you reside in Coralville, North Liberty, or otherwise outside of the above listed communities, you can apply for a general use card that does not include premium online resources use.
Recent News