Posted by Heidi L on Friday, Dec 7, 2018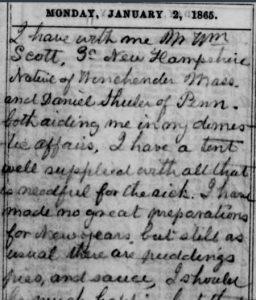 You can help transcribe original historical documents through a new program at the Library of Congress. Creating a digital transcription of manuscripts and other documents allows the public to search those documents more easily with keyword searches, and improves readability when original handwriting is difficult to decipher. Go to crowd.loc.gov to learn more about it and to get to work.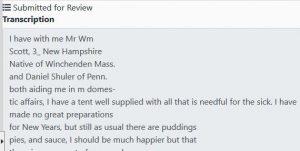 Shown above is a page from a diary belonging to Clara Barton, who nursed the wounded on the battlefields of the Civil War, and the transcription of the page.
The benefits to you, the transcriber, are several: in addition to feeling good about helping others use historical documents more easily, you will have the satisfaction of becoming immersed in original sources, and also gain skills in deciphering older forms of handwriting and vocabulary. Rest assured, your transcriptions will be reviewed by others to help ensure accuracy. You may also elect to review other transcribers' work.
The volunteer program began this fall, and already thousands of pages have been transcribed. Anyone wanting to give it a try may participate. They suggest that it works best to use a device with a full-sized keyboard such as a laptop or desktop computer; a tablet with an external keyboard should work, but smartphones are not yet supported. There is a "How to Transcribe" guide that explains how to get started. A list of common questions about the project is at the website's FAQ page in their Help Center.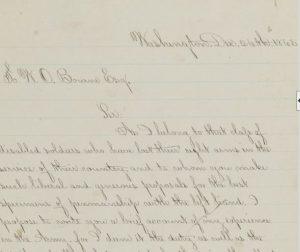 Some of the projects that have been done so far include writings by Civil War soldiers, documents by and about Clara Barton, letters to Abraham Lincoln, and diaries, letters and other papers of Mary Church Terrell, advocate for African Americans and women.  Part of the "Civil War Soldiers" project are submissions to a contest in which Union soldiers and sailors who lost their right arms by disability or amputation during the War were invited to submit samples of their penmanship using their left hands.
A similar project is happening close to home:  the University of Iowa Libraries has had an active crowdsourced transcription platform for a number of years.  Their project is called "DIY History" and has content from the UI Special Collections, the Iowa Women's Archives, and the University Archives.