Posted by Kara on Wednesday, Dec 5, 2018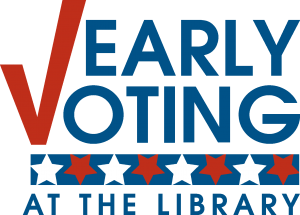 Early voting for the December 18 Johnson County Special Election for the Board of Supervisors begins on Wednesday December 5 at 7:45 AM. Early voting is available at the Johnson County Auditor's Office, 913 S. Dubuque Street, every hour the Auditor's Office is open until 5:30 PM on Monday December 17.
There are two Early Voting opportunities outside the Auditor's Office. On Friday December 14 there's an Early Voting site at University of Iowa Hospitals and Clinics in the Fountain Lobby from 10am to 4pm.
On Saturday December 15 there's early voting HERE AT THE IOWA CITY PUBLIC LIBRARY from 10am to 4pm.
The election is Tuesday December 18. On this day, you must vote at your precinct location. NOTE: 17 of the 60+ precincts will be combined into 8 voting locations so some voters will vote at a different place. Visit the Auditor's webpage for information about where to vote on December 18. If your precinct is not listed as one that changed, you vote at your normal location. A full list of voting locations is available on the Auditor's Webpage.
You may view a sample ballot at this link.
If you have questions, please contact the Johnson County Auditor's Office at 319-356-6004 or www.jcauditor.com
Recent News