Posted by Kara on Wednesday, Jul 17, 2019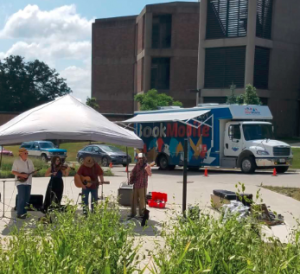 Each week you can find the ICPL Bookmobile at Science Thursdays on the UI Health Sciences campus at the College of Medicine Courtyard. Science Thursdays feature great music, food trucks and the Bookmobile! It's a great event and we see many friends who stop by to say HI to the Bookmobile staff (and many people who pick-up Holds).
Check out the Science Thursdays schedule and then come out and enjoy the music, food and Bookmobile. We'll see you soon!
PS - The ICPL Bookmobile's last day at Science Thursdays is August 15. Then we take a week off for cleaning and training. Our fall schedule begins on Monday August 26 and our College of Medicine Courtyard stop moves to a different day.
Categories