Posted by Sam on Wednesday, Nov 4, 2020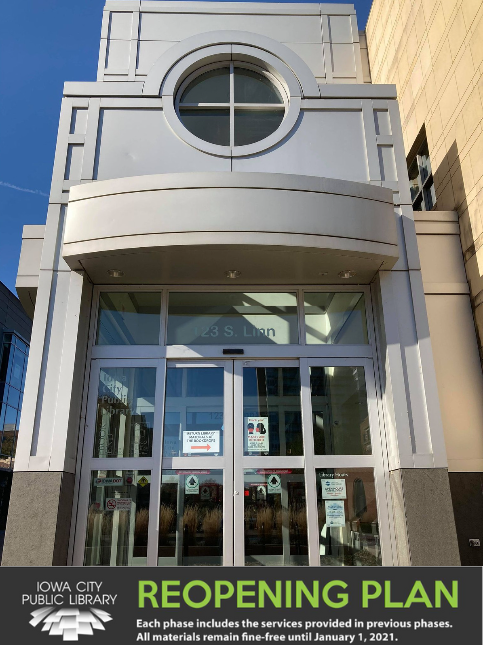 The Iowa City Public Library will scale back current services due to increasing COVID-19 infections in Johnson County. Community safety continues to be a Library priority.
Starting today, Wednesday, November 4, items will be available for pick up from the downtown Library lobby during quick visits. The following services will temporarily end: bookmobile, computer access, and DOT kiosk access.
Residents can access library items to reserve through the catalog 24/7 at icpl.org,  or call 319-356-5200 for assistance during library hours, Monday through Saturday, 10 a.m.- 6 p.m. After notification that items are ready for pick up, use the Linn Street entrance to the library lobby. Face masks and maintaining a 6-feet distance are required in the lobby. If you have COVID-19 symptoms, request mail delivery of your items.
Items can be returned to the book returns on Linn Street, or at bins at two Iowa City locations: the HyVee at First and Muscatine Avenues, or GreenState Credit Union drive up on Mormon Trek Boulevard. No late fees will be charged through June 30, 2021.
A library card opens doors to online access to books, movies, etc. educational and entertaining programs, children's storytimes, local history presentations are at icpl.org. You can register for a library card online in order to place physical materials on hold as well. Library staff are available to answer questions by phone, email, or chat.
While the Iowa City Public Library wants your support through book donations and loves finding new readers by reselling books through the ICPL Friends Foundation to benefit the Library, we cannot accept them right now. We would be glad to add your name to a list of potential future book donors if you would like or suggest giving your books to another nonprofit organization if you have an immediate need to donate. 
Categories
Recent News