Posted by Kara on Thursday, Feb 23, 2017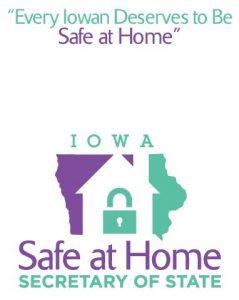 Iowa Safe at Home is an address confidentiality program of the Iowa Secretary of State's Office designed to help victims of domestic crimes. Melanie Shellenberger from the Iowa Secretary of State's Office will share information about this program on Friday March 3, 2017 at 10:30 AM in Meeting Room A.
The Iowa Safe at Home program provides three services to help survivors improve their lives:
Substitute Address - Safe at Home provides a substitute address for participants to use with any city, county or state offices or private organizations requiring a mailing address or verification of an address. The participants' physical address does not appear in any public records.
Mail Forwarding Service - Safe at Home will forward first-class, legal and certified mail and packages of prescriptions to the participant's confidential address.
Confidential Voter Registration - Participant's voter registration information will not be listed on public voter lists.
Iowa Safe at Home is available to survivors of domestic violence, sexual assault, trafficking, stalking or violent crimes whose address is or will be unknown to the abuser or offender.
More information is available at safeathome.iowa.gov, via eMail at SafeAtHome@Iowa.gov or by calling 515-725-SAFE (7233).