Posted by Maeve on Thursday, Jul 21, 2016

Corn sweat, what on earth is that you ask? Well, let me tell you. Corn sweat is evapotranspiration and according to the United States Geological Survey evapotranspiration is the sum of evaporation and transpiration. The transpiration aspect of evapotranspiration is essentially evaporation of water from plant leaves. Transpiration rates go up as the temperature goes up, especially during the growing season, when the air is warmer due to stronger sunlight and warmer air masses. Higher temperatures cause the plant cells which control the openings (stoma) where water is released to the atmosphere to open and the more humid it becomes.  And while evapotranspiration does not make it hotter, it makes it more more humid and that makes us feel much hotter.
The Washington Post just ran an etreamely informative article, complete with a map of corn acreage by county and a chart of relative humidity clearly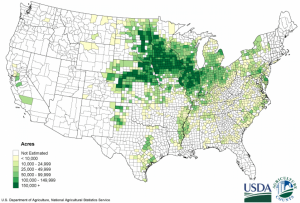 showing how high humidity can make it feel  oppressive inside without adequate cooling and make  activities dangerous for those who work or recreate outside.  This type of weather can also be life-threatening for livestock.  In fact the National Weather Service issued an excessive heat warning with the following precautions:
AN EXCESSIVE HEAT WARNING MEANS THAT A PROLONGED PERIOD OF DANGEROUSLY HOT TEMPERATURES WILL OCCUR. THE COMBINATION OF HOT TEMPERATURES AND HIGH HUMIDITY WILL COMBINE TO CREATE A DANGEROUS SITUATION IN WHICH HEAT ILLNESSES ARE LIKELY. DRINK PLENTY OF WATER...STAY IN AN AIR CONDITIONED ROOM...STAY OUT OF THE SUN...AND CHECK UP ON RELATIVES AND NEIGHBORS. YOUNG CHILDREN AND PETS SHOULD NEVER BE LEFT UNATTENDED IN VEHICLES UNDER ANY CIRCUMSTANCES. THIS IS ESPECIALLY TRUE DURING HOT WEATHER WHEN CAR INTERIORS CAN REACH LETHAL TEMPERATURES IN A MATTER OF MINUTES.
Most of us have air conditioned homes and workplaces, but if you don't or if you are going to be outside for prolonged periods of time, it's important to stay hydrated.  The American Red Cross offers the following suggestions:
Stay hydrated by drinking plenty of fluids even if you do not feel thirsty. Avoid drinks with caffeine or alcohol.
Eat small meals and eat more often.
Avoid extreme temperature changes.
Wear loose-fitting, lightweight, light-colored clothing. Avoid dark colors because they absorb the sun's rays.
Slow down, stay indoors and avoid strenuous exercise during the hottest part of the day.
Postpone outdoor games and activities.
Use a buddy system when working in excessive heat.
If you would like to learn more about weather and heat and humidity and corn sweat, come find us at the Information Desk on the secon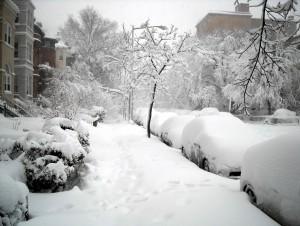 d floor of the library.  Weather is one of our favorite subjects to research.  And don't forget, winter is only a few short months away...
Recent News