Posted by Stacey on Tuesday, Dec 27, 2022
We have a couple of new workshops that I'll share first!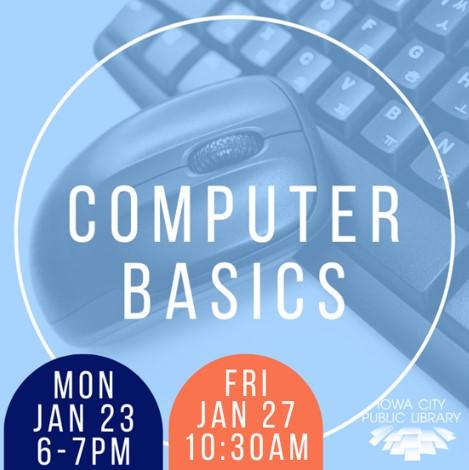 Computer Basics
Monday 1/23, 6-7pm
Friday 1/27, 10:30-11:30am
Gain confidence and experience using computers! This class is for anyone who is hesitant about using the mouse, baffled by the extra keys on a keyboard, or worried they'll mess something up on the computer.  On a Windows 10 desktop computer, we'll cover mice, keyboards, saving and deleting files.  An "Internet Basics" workshop will follow next month.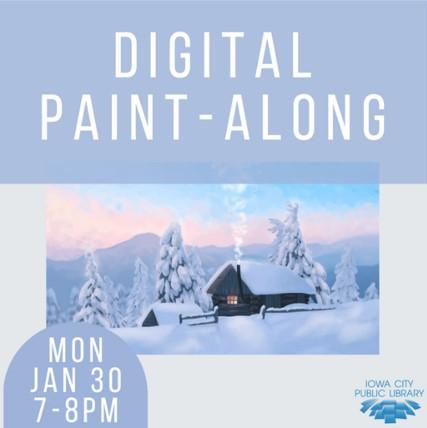 Digital Paint-along
Monday 1/30, 7-8pm
You know those events where people drink wine and an instructor shows them how to paint the same picture? What if there wasn't any wine and it was *digital* painting instead of actual paint? Everyone will sit at a computer for this digital paint-along and create the same winter scene using digital painting software.  Emma will show you how to use brushes, paint colors, layers, and other effects to create digital art -- and you'll leave with an image file of your own masterpiece!
And we'll have repeat sessions for:
Intro to Windows 11
Tuesday 1/3, 12-1pm
Anyone who's recently purchased a new Windows computer knows that they come with Windows 11 installed nowadays. Join Stacey for an overview of how this latest operating system is set up, so you can navigate around like an expert again!
Intro to the Cricut Cutting Machine
Friday 1/6, 10:30-11:30am
Saturday 1/21, 1-2pm
Anyone interested in using the library's Cricut Maker 3 to create paper cut-outs, vinyl stickers, iron-on designs, or other creations is invited to this introductory session.  Stacey will walk us through what you can make with a Cricut, what the library provides and what you should bring, a demonstration of the Design Space software, and see it cut in action.  These sessions are optional – anyone can go to icpl.org/cricut to reserve a time slot!
Craft Night in the Lab
Monday 1/9, 6:30-8pm
Join Stacey with your own craft project or use our button maker and shrinky dink supplies to create something fun.  Drop in anytime during this hour and a half!
Graphic Design Hangout
Tuesday 1/24, 5-7pm
If you wish you spent more time making things in software like Canva or Adobe software, here's a reason to sit down and dig in!  Join this casual co-working time anytime during these 2 hours.
And sign up to use the new Cricut Maker 3 during Digital Media Lab Help Hours!  You'll find more information about it at icpl.org/cricut or let me know if you have any questions.
Happy new year!
Categories
Recent News