Posted by Kara on Tuesday, Apr 9, 2019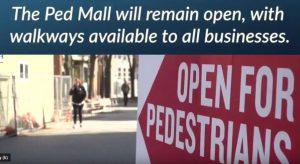 The Ped Mall Improvement Project begins again on May 13. Phase Two of the project brings updates literally to the Library's door. Please be assured the Library will remain OPEN during the Ped Mall improvement project; however, access to the Library may change. Please watch for directional signs that will help you navigate to the Library's entrance.
For updates about the Ped Mall Improvement Project, navigate to  icgov.org/downtownstreetscape. You can also learn more about this project with this video: https://youtu.be/rAYqwXylMOs. 
Weekly update meetings are held at the Library on Fridays at 10:00 am in Meeting Room D. Watch for progress updates from the City after these meetings. To stay updated during construction, subscribe to the Ped Mall Improvements Project email list at icgov.org/e-subscriptions.  (While you are there, subscribe to one or all of the Library's eNewsletters :) ).
You can also follow the City of Iowa City on Facebook and Twitter using #PedProject to follow updates.
The improvements I'm most excited about are the Story Wall and updated concert stage. We'll see you at the Library soon and we thank you for your patience as our beloved Ped Mall is transformed into a new community space.