Posted by Kara on Friday, Feb 19, 2016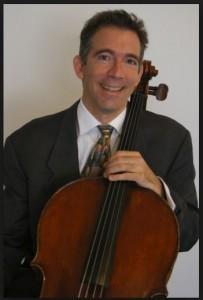 A few years back I received an interesting telephone call. An Associate Professor at the University of Iowa, Anthony Arnone, wanted to play his cello in our Lobby. Arnone explained he was getting his car serviced and, instead of the waiting room magazines or donuts, why not play the cello during his wait? He had such a positive response, he started a project called "Bach to Work-Random Acts of Music," playing his cello in unexpected locations.
We scheduled Mr. Arnone to play at 10:15 on a Monday morning, just as families were heading in for Storytime. The experience of hearing music was mesmerizing. People entering the Library stopped to listen and many children were curious about his playing.
Fast forward a couple years, and we are delighted to welcome Anthony Arnone back to the Library as a part of our Music on Wednesday series. Mr. Arnone will play his cello at Noon on Wednesday February 24th. If it is warm outside, he will play in the Lobby. If it is cold out, we'll move the program to the Gallery on the first floor of the Library.
Cheers to "random acts of music" at the Library!
Recent News