Posted by Kara on Saturday, May 21, 2016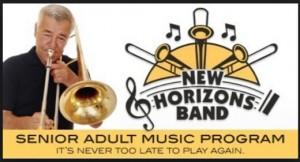 Our final Music on Wednesday program will be held Wednesday May 25th at Noon. The Old Post Office Brass Quintet, which is affiliated with the New Horizons Band, will share a variety of toe-tapping fun music. This free program will be held in the Library Lobby.
The New Horizons Band is "dedicated to fostering an understanding of the vital relationship between creative expression and healthy aging. The band, as well as the small spin-off groups perform regularly throughout the area and are known for bringing much joy to many, especially the older adult members of our community."
I'm sad the Music on Wednesday series is coming to a close. It's fun to see the surprised expression on people's faces when they come into the Library and encounter music in an expected place. Most people smile and some stop and listen. Music in unexpected places reminds us to slow down and enjoy the moment. I have a secret hope we'll continue to have pop-up music in the Lobby. Most people know what to expect at the Library, but some days a bit of serendipity through music is a welcome surprise.
Recent News