Posted by Jacy on Wednesday, Oct 21, 2020
As the weather cools, and the safety measures are still a necessary part of our daily lives, holidays and annual events keep coming and going. Here at the library, we're all doing our best to not let them pass by unacknowledged. This is really difficult for many and for me this time of year is especially sentimental. Halloween is my favorite holiday and I love to celebrate it fully. Last year was my first Halloween working at the Help Desk, and I decided to splurge on a witch hat from an Etsy seller to mark the occasion. To justify the purchase, I told myself that I would wear it every year on Halloween at the Help Desk; this way, I could share in the Halloween spirit when some of you came in with your own cool costumes.
This spooky season, we won't be able to show off our costumes in the same way as when I first wore my hat. Some of the usual fall activities will be canceled, or look very different than they normally do. The good news is, we can still celebrate. Through the library, I have the opportunity to bring together fellow Halloween enthusiasts by teaching some spooky makeup classes. One event is for tweens, with both classes already full. Below you can see an example of what the tweens will do during the class! The other event is for adults, on the 28th of October. There are still some spots left, so if you have any makeup skills you want to learn for a Halloween costume (or just for fun), register for Halloween Makeup Tips & Tricks and ask away!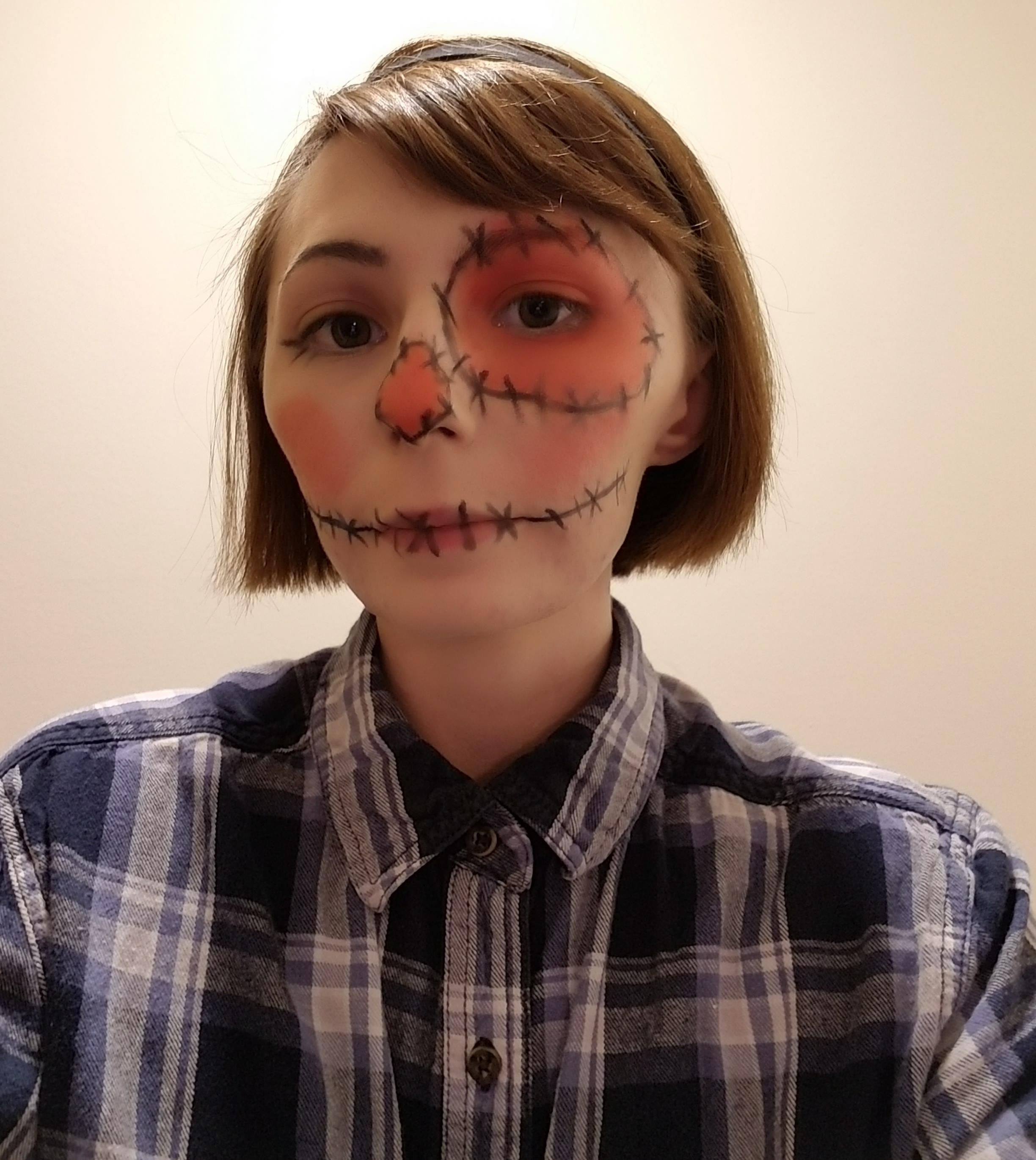 Although the way we celebrate has drastically changed, I still am excited for the activities we can do. Like carving pumpkins at home, attending these classes, practicing fun Halloween makeup and sharing it on social media, having a spooky movie marathon on Netflix Party, and not having to change out of PJ's to do any of it.
It helps me to remember that celebrating safely this year means next year I'll get to visit the orchard and pumpkin patch, hand out candy, and have an (in person!) costume contest. It also helps to know that, here at the library, we are doing our best to support you during this time. We have tons of scary movies to check out, and lists of which ones we recommend. Authors like Stephen King (my personal favorite), Stephen Graham Jones, and Mariko Koike can be placed on hold for a good scare in book form. We have an awesome amount of Halloween themed picture books for the little ones to enjoy, not to mention the events we'll be having over Zoom for all ages. Finally, if you happen to come to the lobby Grab and Go on Halloween, feel free to wear your costume because I'll be there with my witch's hat and a matching spooky mask to celebrate my favorite holiday with all of you.