Posted by Susan on Friday, Sep 22, 2017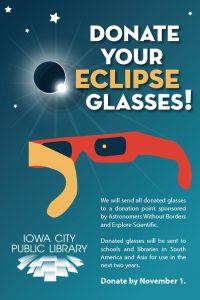 Bring those eclipse glasses to the library and we will pass them on to a place that needs them.  We are collecting eclipse glasses as part of an effort of the Astronomers Without Borders and its corporate sponsor, Explore Scientific.  All the glasses will eventually be distributed to schools, libraries and other institutions in South American and Asia for use during several eclipses that will occur in those areas in the next few years.
Please drop off your glasses in the collection box, located near the indoor book returns near the entrance.  Glasses will be collection until November 1.