Posted by Maeve on Thursday, Jun 30, 2016
Ouch, ouch, ouch! That hurts, that really really hurts!  Do you want to know why stings and bites hurt and why some insect stings are worse than others?  Then look no further than "The Sting of the Wild". Schmidt, the "the King of the Sting" and"the Connoisseur of Pain",  is an entomologist at  Southwestern Biological Institute and is affiliated with the Department of Entomology at the University of Arizona and he has written a bitingly good book about insects that inflict pain.  I am attractive to flying insects; mosquitoes, gnats, and black flies - all those annoying little creatures of the air, so I was very interested in why me and not others.  Mosquitoes are attracted to certain blood types more than others, those with Type O being bitten the most frequently.  If you want to know what other factors make a mosquito pick you or ignore you, you'll have to read the book.
His research area of expertise is insect venom and he is the creator of the Schmidt Sting Pain Index.   The Schmidt sting pain index is a 5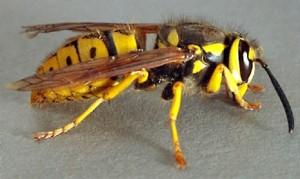 -point pain scale, numbered from 0 to 4. An insect that can't penetrate human skin ranks 0. The most painful stings rank 4 on the index.  I guess five must be death, which is possible with a sting.  Schmidt includes his pain scale as an appendix and it's fascinating and funny, truly funny.  He gives the name, the range, the description and the pain level of each stinging insect.  There is only one level 4 in North America - the tarantula hawk, but there are many lower pain level insects.  But don't think it is a tiny tingle if the level is lower, it's not.  His descriptions read like entries in the "Wine Enthusiast" - Western yellow jacket - Pain Level 2 - Hot and smoky, almost irreverent. Imagine W.C. Fields extinguishing a cigar on your tongue.  Honey wasp - Pain Level 2 - Spice, blistering. A cotton swab dipped in habanero sauce has been pushed up your nose.
And get this, he based his pain index on experimentation with himself as the subject.    I have been stung by a paper wasp before and it is excrutiatingly painful.  I cannot imagine inflicting all of that agony on myself, but I am glad he was curious and strong enough to do it.  He was interviewed recently on Science Friday and he is in funny in person as he is in writing.

Recent News