Posted by Brian on Thursday, Jan 17, 2013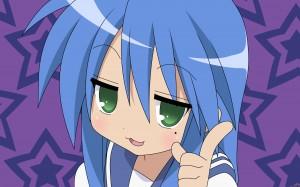 Hi, I'm Brian, ICPL's new Young Adult Librarian.  I'm psyched for our annual Teen Anime & Manga Festival, which will be held Saturday, February 23 from 2:00-4:00 p.m. in Meeting Room A.  If you've been to one of the festivals before, you know it's a lot of fun.  If not--We watch anime (on Room A's huge screen), talk about our favorite manga and eat massive amounts of candy sushi (and delicious Pocky)!
We will be watching:
Lucky Star
Katekyo Hitman Reborn!
Haibane Renmei
There will also be an artist alley with prize drawings for participants, so be sure to bring your finished drawings or do some freehand work while you're here! Cosplay dress is encouraged and there will be prizes for those that take part.  We're also going to do a cool craft, but I'll let Emily do a post about that later.  Also (also!) we have a big announcement for something really cool that we'll make at the festival (and I'll probably tease it a bit here too).  Hope to see you there!