Posted by Maeve on Monday, Jun 13, 2016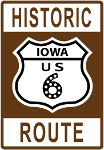 Have you wondered about these signs?  The signs are easy to explain, but story behind the US 6, is a long and winding one.  U.S. Route 6 (US 6), is a main route of the U.S. Highway system. It currently runs east-northeast from Bishop, California to Provincetown, Massachusetts, although the route has been modified several times. The highway's longest-lasting routing, from 1936 to 1964, had its western terminus at Long Beach, California. During this time, US 6 was the longest highway in the country.   The first numbered segment of Route 6, extending from Provincetown, Massachusetts, to Brewster, New York, was designated in 1925. Soon thereafter Route 6 was extended to Erie, Pa, the Pennsylvania segment routed along the "Roosevelt Highway," a name that would soon apply to the entire transcontinental Route 6. In 1931, Route 6 was further extended to Greeley, Colorado along a path that combined quite a number of separate numbered and unnumbered segments, including U. S. 32 across part of Illinois and all of Iowa, and U. S. 38 across part of Nebraska. Finally, in 1937, the route was extended westward to Bishop, California and south to Long Beach. Then in 1965, the segment south of Bishop was decommissioned. The name "Roosevelt Highway" seems to have stuck for a while, but had faded by the 1950s. Throughout its history, before and after the magic moment in 1937 when Route 6 gained its transcontinentality, numerous route modifications were made, most of them at a local scale. (http://www.heritagedocumentaries.org/Route6/story.html)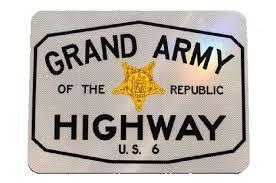 In 1953 Route 6 was designated the Grand Army of the Republic [GAR] Highway to honor those who served in the Civil War and signs were found as  in all fourteen of the states through which it ran. Through the 19602 and 1970s the GAR Highway signs gradually disappeared.In the early 1990s, this name was revived and it appears on signs in all fourteen Route 6 states (numerically ranging from four in California, to nearly 100 signs in Indiana).
Iowa has a fascinating road history, (look for more posts on this topic), parts of  the River to River Road which was built in a day across Iowa in 1910, became Route 6. It was built through the coordinated effort of people in every township along the way. In the 1920s, the road that would become Route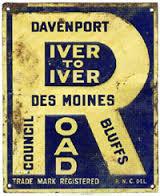 6 was designated by utility poles that were painted white, creating the White Pole Road, or White Way Highway. These designations had disappeared until the Spring of 1999 when a series of White Pole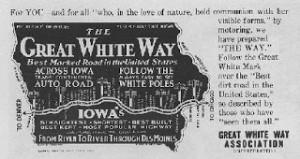 Road signs appeared along Route 6 in Cass County, Iowa.  Irving Weber writes about the White Way Highway, among other highways in volume 5 of his Historical stories about Iowa City.
In 2013, with the help of the Iowa City/Coralville Convention and Visitors Bureau,  Iowa City added the Historic Route 6 signs.  If you want to learn more about the Historic Route 6 a great place to start is the US Route 6 Tourist Association.   And if you want to learn more about Iowa City streets, including Historic Route 6, be sure to watch Tom Schulien's 2016 Weber Day's presentation Making Sense out of Iowa City Streets
.
Recent News