Posted by Maeve on Monday, Apr 11, 2016
Quick, what happened almost ten years ago to the date?  BINGO! The F2 tornado that hit Iowa City on the night of April 13, 2006.  Where were you that night and what were you doing when the twister hit?  ICPL wants to know.  You can stop in the library and add your story to the tornado board and even place your tale on the exact location of where you were that monumental night.  And you can share your photos of the aftermath of the storm with all the world through ICPL interactive tornado map.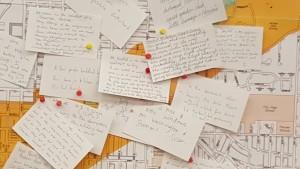 We already have over 2000 photos but we are looking for more, especially ones from where the tornado first touched down, the south end of town.  On Wednesday, you are all invited to share your stories of the the night of the tornado and the days of recovery afterwards.  Iowa City, while suffering millions of dollars in damage saw not loss of life.
The National Weather Service has linked 15 tornadic events from April 13, 2006 on one page, starting with a tornado north of Marion, Iowa and ending in Alexis, Illinois.  The tornado activity began at 7:40 in Iowa and ended at 10:15 in Illinois.  Wikipendia calls all of the tornado activity that weekend and the following Monday, the Easter Week Tornado Outbreak, as the first tornadoes started on Maundy Thursday, April 13 and ended on Tuesday, April 18.  The tornadoes moved across the plains and prairie and spread a path of destruction.
The library has a wealth of information on tornadoes real and fictional.  Watch Twister, filmed in Madison County, Iowa, or everyone's favorite, The Wizard of Oz, or better yet, read the L. Frank Baum stories on which Victor Flemming based the his film production.   Look under the subject heading of tornadoes to find out what it takes for the atmosphere to roil to the extent that every home in a town is destroyed and many lives are lost or why in another locality a house can be sucked into a swirling vortex and set down in a field of corn with nary any damage .
And finally, do you know the difference between a twister and a tornado?
Recent News