Posted by Meredith on Monday, Sep 16, 2013
Coinciding with Banned Books Week (Sept. 22 – Sept. 28), the Intellectual Freedom Festival at the Iowa City Public Library is an annual event that affirms everyone's right to freedom of thought and expression.
2013 Carol Spaziani Intellectual Freedom Festival Events
TAG (Teen Activity Group)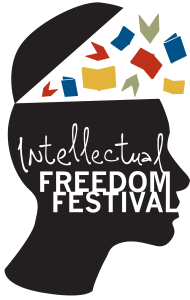 Saturday, September 21, 2013
Noon, Meeting Room B
Join the Teen Activity Group as they discuss and decorate banned books.
Protecting Your Privacy: Internet Safety
Monday, September 23
1 p.m., Computer Lab
Wary of the threats lurking around online? Join ICPL staff for an internet safety course. You will learn strategies and skills to protect yourself and your privacy.
Banned Book Storytime with Kathy
Wednesday, September 25
10:30 a.m., Storytime Room
All The President's Men Film Screening
Wednesday, September 25
7 p.m., Meeting Room A
Academy Award-winning political thriller based on the Watergate scandal. Stars Robert Redford and Dustin Hoffman as reporters Carl Bernstein and Bob Woodward who broke the story that brought down President Richard Nixon.
The Banned Poems that Built America – From Whitman to Tupac: Senior Center Poetry Reading Aloud
Thursday, September 26
Noon, Meeting Room A
Join the Reading Aloud Group from The Center and Iowa City Public Library Staff as they explore the subject of banned poems. This program will look at the history of banned poems with the Reading Aloud Group reading several examples.
Is This What They Call Censorship?
Thursday, September 26
7 p.m., Meeting Room A
At what point does one person's opinion become censorship? During Banned Books week, the public will be invited to place labels on Library materials as if censorship did not matter. Then, at this event, writers from the UI International Writing Program and ICPL Librarians will lead a discussion on when opinion turns to Censorship.
Documentary Screening: Far Out Isn't Far Enough: The Tomi Ungerer Story
Friday, September 27
7 p.m., Meeting Room A
Tomi Ungerer and Maurice Sendak changed the landscape of children's books in the 1950's and 60's with book for children that scared adults but children loved. By the 1970's, though, Ungerer's works disappeared from bookstores and libraries when he began illustrating erotic books for adults.
All programs are free and open to the public.
For more information about the 2013 Carol Spaziani Intellectual Freedom Festival, visit www.icpl.org/iff/
###
Follow us:
Facebook
www.facebook.com/icpubliclibrary
Twitter
twitter.com/ICPL