Posted by Meredith on Thursday, Jul 11, 2013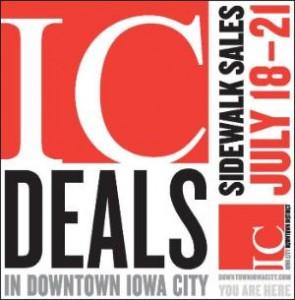 The Iowa City Public Library is joining our downtown neighbors for this year's Downtown Iowa City Annual Sidewalk Sales. On Saturday, July 20, from 10 a.m. - 4 p.m., the Library is the place to come for exclusive deals on gently-used books, DVDs, and CDs.
Peruse our lobby for discounts on non-fiction, general fiction, and children's books. Highlights include a wide array of books on antiques and collectibles, and puzzles sure to provide hours of entertainment for even the smartest kid (or kid-at-heart).
After Sidewalk Sales is over, you can still find great deals every day except Sunday at The Book End, located on the second floor of the Library. Drop in and browse quality used books, DVDs, and CDs for purchase. Popular items include paperback mystery novels, picture books, and DVDs from our collection priced at one dollar. Check back often as our stock is constantly changing and growing!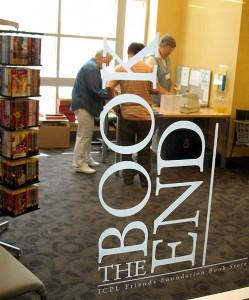 Proceeds from sales at The Book End directly benefit the Iowa City Public Library's community-oriented programs and help buy new materials for our collection. Staffed exclusively by volunteers, the materials sold are discarded items from our collection or donations from our patrons. To donate items, bring them to the Help Desk on the first floor during Library hours.
Downtown Iowa City's Annual Sidewalk Sales marks its 45th anniversary this year with more participating stores and better deals than ever before. It's the perfect way to see the best of what downtown merchants and Northside Marketplace have to offer. For more information, click here.
###
Follow us:
Facebook
www.facebook.com/icpubliclibrary
Twitter
twitter.com/ICPL