Posted by Meredith on Thursday, Jan 9, 2014
Diana Durham's years as an elementary teacher serve her well in her retirement.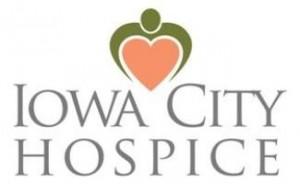 "As a schoolteacher, you learn to perform," Durham says. "You have to like it."
Durham liked it so much; she joined the Iowa City Hospice Singers. The singers are a group of volunteers who make visits to area nursing homes for monthly sing-alongs. It was through this program that Durham learned of another volunteer opportunity: The Iowa City Hospice Reading Program.
For more than four years, the Iowa City Public Library has partnered with Iowa City Hospice to offer monthly reading programs at area retirement and residential care centers. The Library provides the reading materials and supplemental information to assist reading program volunteers with their programs and discussions.
"When the program first began, the Library would select books for the volunteers," says Sarah Neary, Iowa City Hospice's volunteer program coordinator.
Every group was reading the same book at the same time, with outlines and reading discussion questions provided by the Library. The program has evolved over the years, though, to adapt to the needs and wants of the residents it serves.
"We've decided the program works best with less structure," says Anna Sewell, the Library's outreach and volunteer assistant. "Some groups continue to be happy with reading and rereading the stories of growing up in Iowa, such as "Little Heathens" and "Growing Up Country," while other groups prefer to choose their own material to read and discuss. I stay available to all the groups as a source of information, ideas and resources."
Neary credits the program, and its volunteers, for providing residents with interpersonal interactions.
"We are dealing with a population that, in general, did not grow up with TV," Neary says. "These people grew up with stories. They had to entertain themselves. The reading program is more engaging than TV and it reminds them of how they grew up."
"It's so rewarding," Durham adds. "You walk in and see all of these smiles – they're just so happy to see you. I think I get more out of the program than they do."
Currently, eight volunteers make up the Iowa City Hospice Reading Program. More facilities are interested in joining the program, but additional volunteers are needed. If you are interested in being a reader, contact Sarah Neary at sarah.neary@iowacityhospice.org.
# # #
Follow us:
Facebook
www.facebook.com/icpubliclibrary
Twitter
twitter.com/ICPL