Posted by Meredith on Wednesday, Jan 8, 2014
January 8, 2014 – Do you love comedies? Shakespeare? Joss Whedon?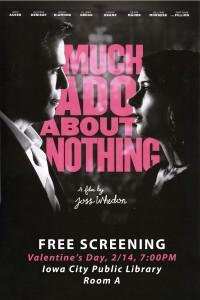 If you answered "yes" to any of these questions, come to the Iowa City Public Library on Friday, February 14, for the Eastern Iowa premiere of "Much Ado About Nothing."
This modern retelling of William Shakespeare's comedy features two lovers with different takes on romance. Starring Amy Acker, Alexis Denisof, Clark Gregg, and Nathan Fillion, the film was written and directed by Joss Whedon's (The Avengers; Buffy The Vampire Slayer; Firefly).
The free screening will be held from 7 to 9 p.m. in Meeting Room A at the Library. Free popcorn will be provided.
For more information, visit the Library's event calendar at http://calendar.icpl.org/.
# # #
Follow us:
Facebook
www.facebook.com/icpubliclibrary
Twitter
twitter.com/ICPL