Posted by Meredith on Thursday, Jan 2, 2014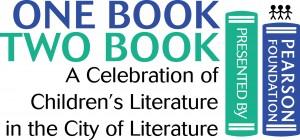 The Iowa City UNESCO City of Literature will celebrate the third annual One Book Two Book festival January 17 through January 19. This year's event includes an exciting mix of author visits, public readings, book character visits, a writing jam, and a comic book workshop. The Pearson Foundation is the festival's presenting sponsor.
One Book Two Book begins Friday, January 17, with the "Once Upon a Time" dinner at 6 p.m. at The Sheraton. A literary celebration created to honor stories written and performed by children from each elementary school in Iowa City, the event also includes a keynote presentation by best-selling children's book author and illustrator Loren Long. Long is the creator of the beloved Otis series and the illustrator of President Barack Obama's Of Thee I Sing: A Letter to My Daughters. Each elementary school in the Iowa City area will receive a free table to the event thanks to sponsors Terry, Lockridge & Dunn and World Trend Financial.
Downtown Iowa City comes alive with literary events at the Iowa City Public Library, The Sheraton, and Fair Grounds Café with the Children's Book Fair on Saturday, January 18. The day begins with Reading Road Trip with IPTV's Dan Wardell at 9 a.m. on the Sheraton Stage. Events continue until 4 p.m., with author meet-and-greets at the Library, book character visits on the Sheraton Stage, and two performances of "Stuck: A Skit with the Iowa Children's Museum" at 11:15 a.m. and 3 p.m. on the Sheraton Stage.
New this year is Comic Book Confidential, a comic book workshop featuring the work of Eric Gapstur, Aaron Gillespie, and Phil Hester. Held from 10 a.m. to noon in the Carver Room by Share in the Sheraton, the trio will share highlights from their own portfolios and then guide participants through the process of transforming an idea into a comic. Finished work will be displayed in the Library's Koza Family Teen Center from 1 to 4:30 p.m. Comic Book Confidential is for students in grades 5 and up; pre-registration is required. Visit www.onebooktwobook.org/comic-book-confidential/ to sign up today.
Once again, the Junior High Writing Jam will bring together seventh and eighth grade students to share ideas and be inspired. Held from noon to 2 p.m. at Fair Grounds Café at 345 S. Dubuque, this event is moderated by the Youth Writing Project and will feature visiting authors Sarah Aronson (Head Case; Beyond Lucky; and Believe) and Brian Farrey (The Vengekeep Prophesies series; With or Without You). Pre-registration is required. Visit http://www.onebooktwobook.org/writing-jam/ to sign up today.
One Book Two Book concludes Sunday, January 19, with the "Write Out Loud Celebration," a celebration of creative writing from local students in first through eighth grades. Held at Englert Theatre, 221 E. Washington St., from 1 to 3 p.m., the public is invited to listen to readings from local young authors, and participating students are eligible for prizes.
Support for the festival comes from the Pearson Foundation, Terry, Lockridge & Dunn, World Trend Financial, ACT, Hills Bank, Sheraton Iowa City, and Pearson.
Volunteers still are needed for Friday and Saturday events. Visit http://bit.ly/1B2Bvolunteers for more information or to sign up.
For more information about the Iowa City UNESCO City of Literature's One Book Two Book festival, visit www.onebooktwobook.org, or contact the City of Literature office at info@cityofliteratureusa.org or (319) 887-6100.
# # #
Follow us:
Facebook
www.facebook.com/icpubliclibrary
Twitter
twitter.com/ICPL