Posted by Meredith on Thursday, Sep 26, 2013
MidWestOne Bank employees love libraries, and they want you to show the love, too.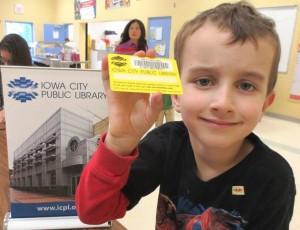 Beginning Monday, September 30, MidWestOne will donate $1 to local public libraries every time a customer shows them their library card. The promotion is part of MidWestOne's weekly "Onederful Weekly Deals" campaign.
"It's something we started back in April as a way to give something back to our community," says Nick Pfeiffer, MidWestOne's second vice president, marketing officer.
Past deals included free ice cream, free apples and free spatulas to celebrate National Pancake Day.
Pfeiffer says he has big hopes for this promotion, which beings Monday, Sept. 30, and continues through Friday, October 4. All the public needs to do is visit any of MidWestOne Bank's 25 locations in Eastern Iowa, show a library card, and the bank will donate $1 to their designated public library.
The Iowa City Public Library will receive donations from the following MidWestOne Bank locations:
Corporate headquarters at 102 South Clinton Street, Iowa City
The Home Mortgage Center at 509 South Dubuque Street, Iowa City
The Keokuk branch at 1906 Keokuk Street, Iowa City
The Rochester branch at 2233 Rochester Avenue, Iowa City
You do not have to be a MidWestOne Bank customer to participate, nor do you need to show a specific library card. Pfeiffer says any library card will be accepted.
"This is a win-win for the Iowa City Public Library and all of our public libraries," says Patty McCarthy, director of development for the Iowa City Public Library. "I hope that everyone will stop by the bank many times to flash their library card!"
###
Follow us:
Facebook
www.facebook.com/icpubliclibrary
Twitter
twitter.com/ICPL