Posted by Kara on Tuesday, Sep 5, 2017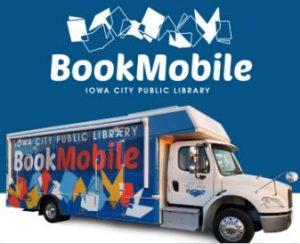 The Bookmobile Fall Schedule is off to a great start. The Fall Schedule runs through December 21st and features four new stops including Hy-Vee on Waterfront Drive, Emerson Point retirement residence, Iowa City Walmart, and Mark Twain Elementary. The Bookmobile will stop at seventeen locations Monday through Thursday at locations throughout our community. A full schedule may be found at icpl.org/bookmobile.
On Wednesday mornings the Bookmobile will travel to area preschools. Bookmobile visits at preschools will include a storytime presented by Library staff and opportunity for children to check out materials. The preschools were already served through the Children's Outreach programs from the Library, but now the visits are even better with the addition of Bookmobile services.
For more information about the Bookmobile or schedule, please navigate to icpl.org/bookmobile or call the Library at 319-356-5200 during regular Library hours.
Categories
Recent News