Posted by Kara on Monday, Dec 18, 2017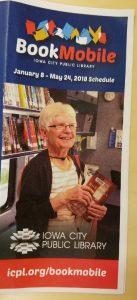 Library staff are finalizing the Bookmobile Winter/Spring schedule which begins on Monday January 8, 2018 and runs through May 24. There are a number of changes to the schedule, so Bookmobile users will want to pick-up a copy of the Winter/Spring schedule flyer. As a reminder, the Bookmobile will not operate from December 25 through January 4, giving staff time to do a deep clean, send the Bookmobile to the spa (maintenance garage), complete training, and update collections.
We are adding a few new stops. The Bookmobile will travel to Iowa City Rehabilitation, Regency Heights and Lemme Elementary on Mondays. Tuesdays we're adding a Noon stop at the UI College of Medicine's MERF/PBDB/BSB Courtyard. This is where the mobile food trucks park in the summer on Thursdays, so UI staff should be familiar with where this stop is located. We anticipate delivering many holds to this stop on Tuesdays. On Thursdays the Bookmobile will be at Hy-Vee on First Avenue.
The Grant Wood Elementary stop changes days and moves to just after school on Tuesdays and the UI Community Credit Union stop moves from Thursday to Wednesday.
The Winter/Spring schedule includes two stops where the Bookmobile will meet-up with the Crisis Center's Mobile Food Pantry. The Bookmobile will be at Regency Mobile Home Community on Thursdays from 5:00-5:30 pm. The Mobile Food Pantry serves Regency the third Thursday of each month from 4:30-5:30 pm. On the 3rd Wednesday of each month, the Bookmobile will make a special trip out to Parkview Mobile Home Court to meet up with the Mobile Food Pantry. The Bookmobile is scheduled to be there from Noon-12:30 pm.
Navigate to icpl.org/bookmobile to preview the complete Winter/Spring schedule. And remember, you can ask to pick-up Holds and Inter-Library Loans on the Bookmobile.
Unfortunately we had to discontinue a couple stops and shorten a couple stops in order to add the new stops. We'll discontinue stops at Lake Ridge Mobile Home Community, Walmart, and Iowa City Marketplace. There is no stop at Willow Creek Park in the Winter/Spring schedule; however, the Bookmobile will return in the Summer of 2018 as a part of the Stories in the Park program. Shorter stops include Mercer Park (now 60 minutes), Breckenridge Estates (now 30 minutes), and UI Community Credit Union (now 60 minutes).
Beat the winter blues by checking out awesome materials from the Library's Bookmobile. We'll see you soon!
Categories