Posted by Anne W on Wednesday, May 3, 2017
This week only, stop by the ICPL Chil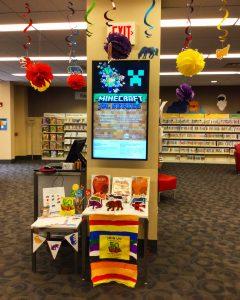 dren's Department and bask in the rainbow glow of our homage to Brown Bear, Brown Bear, What Do You See?, a children's classic celebrating its 50th anniversary this year.
Eric Carle, already successful in the advertising industry, never planned a career in children's books.  But Brown Bear's author, Bill Martin, Jr., spotted one of Carle's advertisements featuring a red lobster in his distinctive collage style.  "The art was so striking," said Martin, "that I knew instantly I had found the artist to illustrate my next book."
After Brown Bear was published in 1967, Carle went on to write and illustrate over 70 more children's books, many of which are similarly beloved by generations of readers.  Brown Bear has been translated into 31 languages and is a wonderful read-aloud for the very young, with its rhythmic text and bold animal illustrations.  (It was the first book I ever read aloud to my firstborn, when she was just four days old.)
If you want to ch
eck out the book, the library owns this beloved children's favorite in English, Spanish, Chinese, Arabic, and Braille, as well as a board book and "big book" format.  (Find it in the catalog.)  Once you've found your copy, you can also go on a scavenger hunt around the Children's Department for all 11 hidden Brown Bear characters (get a special Eric Carle prize!) and make a Brown Bear stick puppet.
At toddler storytime on Tuesday, each child created one of these stick puppets.  The room was filled with a rainbow of horses, fish, frogs, cats, and birds!  We then told the Brown Bear story three ways simultaneously: with the book, with flannel board characters, and with puppets - children held up their animal when it appeared in the story.
Happily, this week is also Children's Book Week, an annual celebration of books for kids and teens.  Children's Book Week was launched in 1919 and is the longest-running national literacy initiative in the country.  So we expanded our celebration at storytime to include another Eric Carle favorite, The Very Hungry Caterpillar, which I told with puppets and giant story cards.  "I know this book!" one child excitedly whispered.
For more Brown Bear, check out the website of the Eric Carle Museum of Picture Book Art for a video of Carle talking about Brown Bear, printable activity sheets, and a slideshow of fun facts about the book (a grey mouse and a pink elephant appear in the 1970 edition!).
Categories
Recent News