Posted by Manny on Saturday, Sep 30, 2023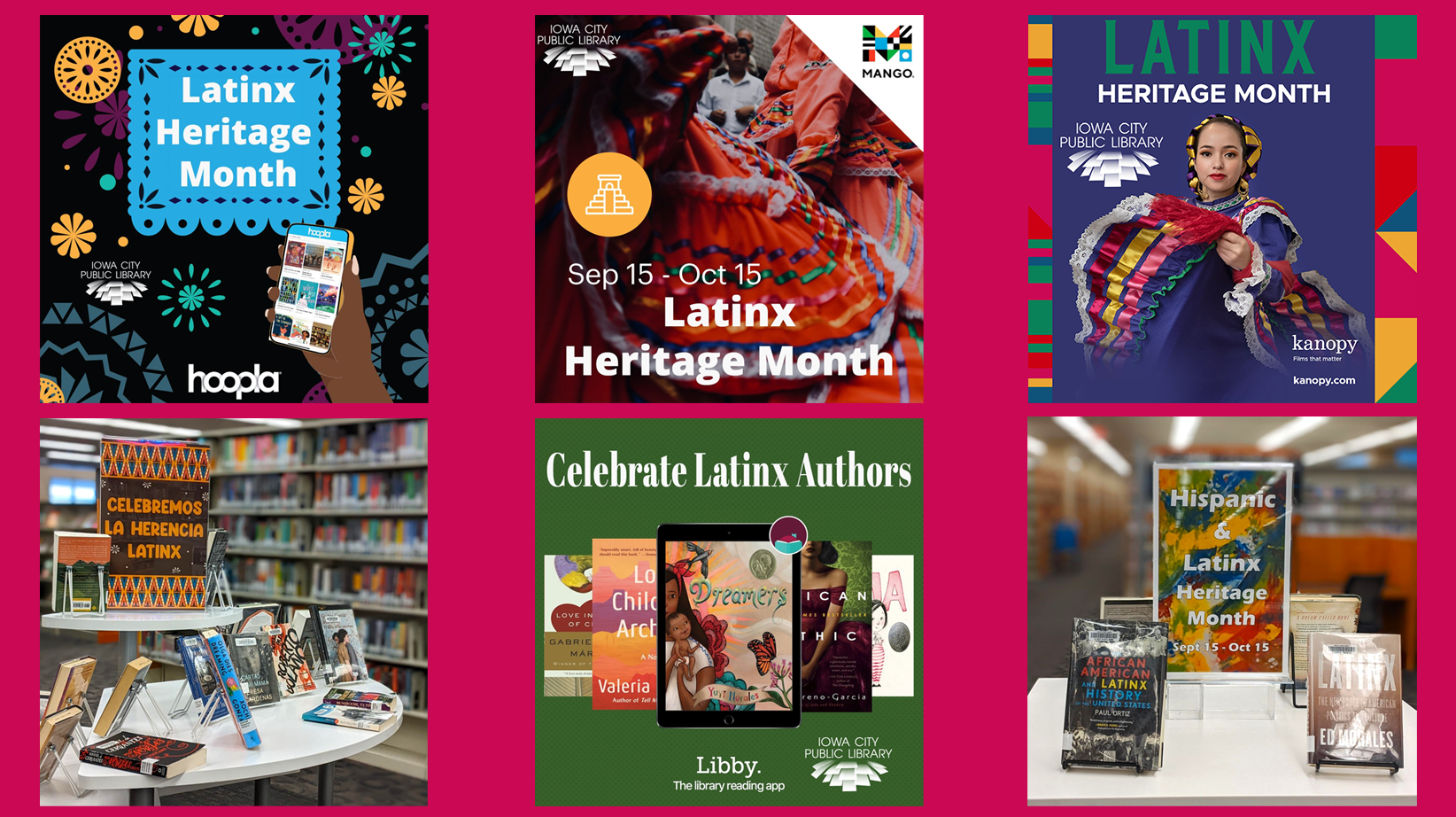 The Iowa City Public Library (ICPL) invites you to continue reveling in the vibrant celebrations of Latinx Heritage Month that stretch until October 15. This is a wonderful opportunity to delve deeper into the Latinx culture and contributions right here at the heart of Iowa City.
Visit the respective links to explore these offerings further, and revel in the diverse perspectives that contribute to the vibrant literary and cultural fabric we are proud to foster at the Iowa City Public Library.
Voces Latinas: A Celebration of Heritage at ICPL Bookmobile
During Latinx Heritage Month, from September 15th to October 15th, we invite you to explore the rich tapestry of Latinx voices at the ICPL Bookmobile. Dive deep into our curated collection, where you'll discover a diverse range of Latinx authors who have enriched the literary world with their unique perspectives. From captivating adult and young adult fiction to evocative poetry and insightful biographies, there's something for everyone. Celebrate the legacy and influence of Latinx writers by finding a new favorite or reconnecting with a beloved classic. Join us in honoring and amplifying these important voices in literature!
The Bookmobile's schedule is available at icpl.org/bookmobile.

Discover Latinx Heritage: Your ICPL Card's Passport to Diverse Stories on Hoopla!
Celebrate Latinx Month on hoopla! With your ICPL library card, immerse yourself in a rich tapestry of Latinx culture through music, eBooks, and audiobooks. Discover an expansive selection of new fiction and nonfiction penned by Latinx authors. Delve into this vibrant collection from the comfort of your home, exclusively on hoopla.

Discover Latinx Legacies on Libby
Celebrate the Latinx Heritage Month with your Iowa City Public Library (ICPL) card! Delve into 10 new releases that spotlight the resonant voices of Latine and Latinx authors, exclusively on the Libby library reading app. Explore the deep history, vibrant Latinx culture, and significant contributions through these 2023 "Own Voices" titles, ranging from enthralling mysteries and captivating fantasies to touching coming-of-age tales.
https://www.libbylife.com/2023-09-18-10-new-releases-to-read-during-hispanic-heritage-month

Discover Latino Cinema with Iowa City Public Library's Kanopy Access!
Celebrate Latinx Heritage Month – ongoing until October 15th – by diving deep into a curated collection of over 100 Latino films. Exclusively for library cardholders, the streaming service Kanopy offers a treasure trove of over 30,000 titles spanning diverse genres from acclaimed studios. Whether through the Kanopy website, Chromecast, or Roku, your ICPL Card grants you complimentary access. Experience captivating Latino cinema, all courtesy of your ICPL membership!
https://www.kanopy.com/en/category/65202
Exploring Latinx Legacy: The Cure Collection's Tribute at Iowa City Public Library
In celebration of Latinx Heritage Month, the Iowa City Public Library has curated an exquisite collection known as the Cure Collection to honor the rich and diverse cultures stemming from Latin America and Spain. From September 15 to October 15, this collection shines a light on the storied histories, vibrant cultures, and invaluable contributions of the Latinx community to the tapestry of America. Reflecting the spirit of independence resonating through many Latin American countries during this period, the Cure Collection encapsulates a wide array of resources that allow visitors to delve into the heart of Latinx literature, art, and history. The array of books, digital resources, and interactive sessions during this month not only educates but also promotes inclusivity and a profound appreciation for the myriad cultures celebrated during the National Hispanic and Latinx Heritage Month. Through the Cure Collection, the Iowa City Public Library fosters a richer understanding and communal celebration of the Latinx heritage that is an integral part of the American societal mosaic.
www.icpl.org/books-more/collections/latinx-heritage-month