Posted by Kara on Tuesday, Dec 5, 2017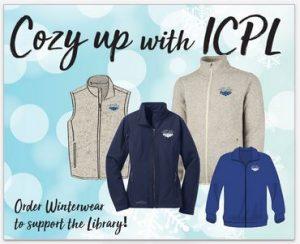 Suddenly Winter is here - it blew in overnight. If you are looking for a cozy holiday gift, check out these clothing items embroidered with the ICPL Logo thanks to our friends at Underground Printing. You need to act quickly, though, because items may only be ordered at this link through MIDNIGHT Wednesday December 6th. Your order supports the Library because the ICPL Friends Foundation receives a donation for each item purchased.
Here's the details: You place your order and pay directly online. Items you order will be available to pick up at the ICPL Help Desk beginning Thursday, December 21, 2017. We cannot take any late orders for the December 21st delivery; however, we may offer another purchase option in early 2018.
Happy Holidays and keep warm with ICPL apparel.