Posted by Manny on Sunday, Feb 26, 2023
Before the big event, there will be an opportunity to donate your extra supplies. If you have any still-usable art or craft supplies that you want to donate, this is your chance to get them into the hands of someone who can use them. This is a perfect opportunity to clear out your craft room and declutter your home. You can bring your donations to the Library on Friday, March 3, from 12:30 to 8 p.m. in Meeting Room A.
Items that will be accepted for donation include:
fabric 
googly eyes 
buttons 
Felt
ribbons 
embroidery floss or hoops 
needlework kits
spools of thread 
kids' craft supplies 
scrapbook paper or supplies 
washi tape 
unused craft kits 
patterns 
clay 
tissue paper 
rubber stamps 
ink pads 

stretched canvas 
sketch or drawing pads 
watercolor paper 
colored pencils 
markers 
Pastels
watercolors or acrylic paints 
paintbrushes 
stencils 
quilting or sewing supplies 
craft patterns or books 
beads or jewelry
making supplies
findings 
wire 

Cord
perler beads or mats 
crafting tools 
yarn 
knitting needles 
crochet hooks 
rulers 
scissors 
pompom makers 
hole punches 
hot glue guns 
glues 
adhesives 
glass gems 
macrame supplies 
para cord
Please note that unusable, broken, dried-out supplies, solvents or other toxic chemicals, gallons of paint, computers, printers, cameras, other AV equipment, sewing machines, lumber or loose boards, or home repair supplies will not be accepted.
Once you donate, you'll receive an Early Bird Ticket that will get you into the Swap 30 minutes early on Saturday, March 4, at 10 a.m. The Swap officially opens to the public at 10:30 am.
The ICPL Arts & Crafts Supply Swap is a great way to find usable supplies and try out a new craft. Any leftover items from the Swap will be donated to a good cause, either The Crowded Closet or Goodwill. Library staff will also select some supplies to keep for Summer Reading Program activities.
So mark your calendars for the Donation Drop-Off event on Friday, March 3, and the Arts & Crafts Supply Swap on Saturday, March 4. You won't want to miss out on this opportunity to declutter your home and find some new-to-you crafting supplies!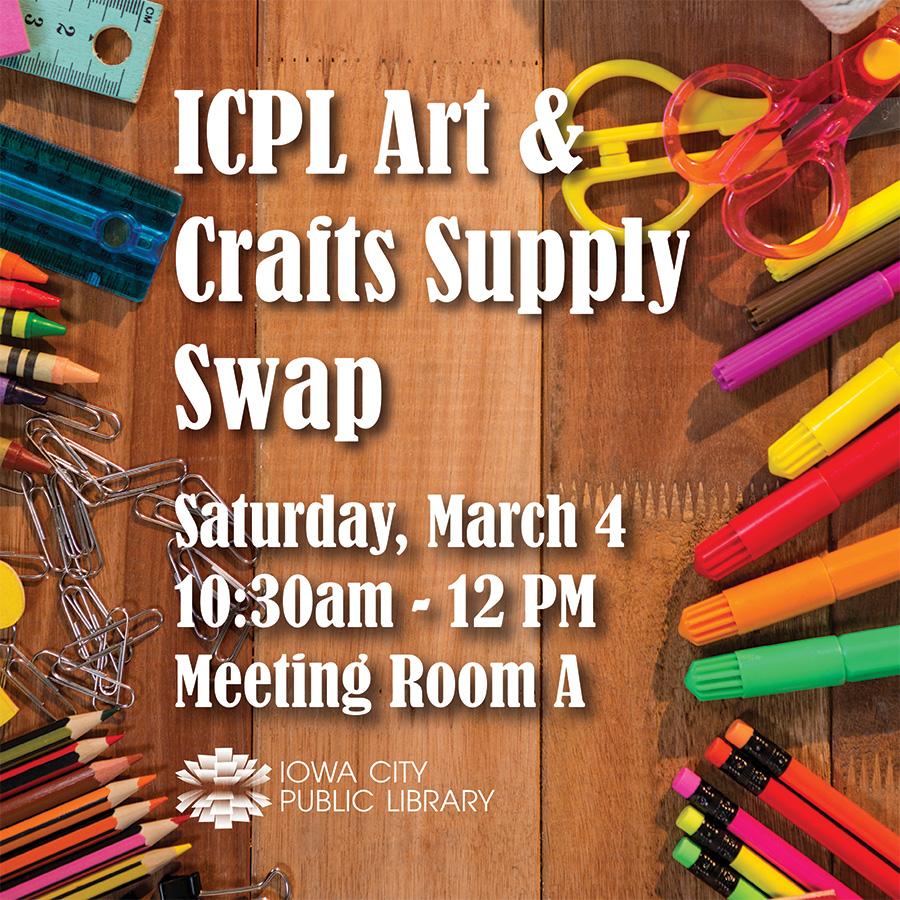 Categories