Posted by Annie on Friday, Mar 17, 2023
Introducing our musical guest for #fREADom to Read... ICPL's own house band, The 781s!
Catch this (very) local music group perform covers of rock and pop favorites like "Get Back" by The Beatles, "Wonderwall" by Oasis, "Dreams" by The Cranberries, and more during the #fREADom to Read festival on Saturday, March 25, from noon to 3 p.m. on the Ped Mall!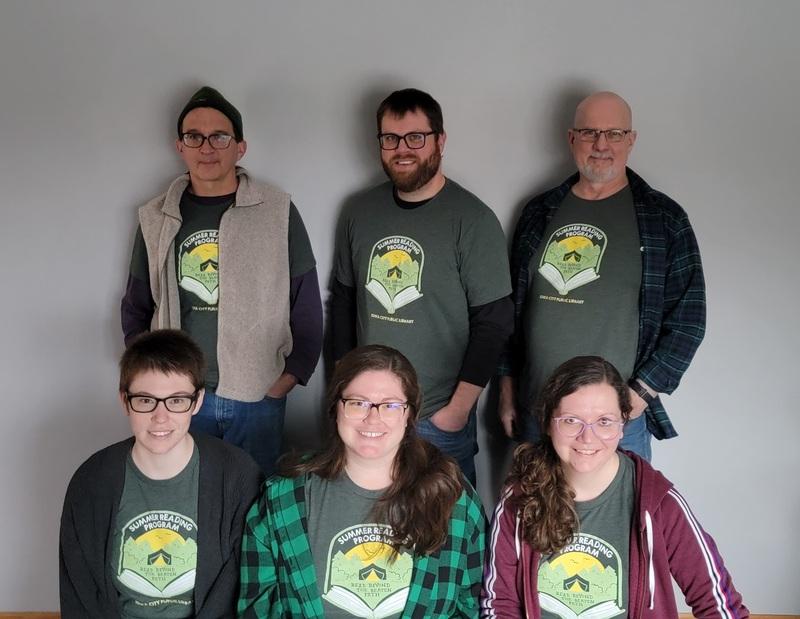 Who are The 781s?
The 781s are drawn from Library staff, representing every part of ICPL — including the band name itself, an ode to the Dewey Decimal number for Music. Still very much in its early stages, The 781s began as casual conversations and short chats made in passing that led to a general staff call-out to gauge interest in meeting outside of work to play music. Seven answered (one has since pursued their dreams by moving out of state). After six months of navigating varied schedules and pressing duties, they had their first practice. A little less than 4 months later, they played their first gig as one of the early acts at the Longfellow Neighborhood Front Porch Fest in September 2022.
Meet The 781s:
Hanna Busse (Adult Services Library Aide, vocals, violin): Hanna has been making music her whole life and has been playing the violin since age 4, and fiddle since age 8 (these are the same instrument, but with very different techniques and cultural histories). Hanna was involved with "America's favorite show choir" as per Parade Magazine while in high school and has studied classical voice and music theory.
Alyssa Hanson (IT Web Specialist, vocals): In addition to building/maintaining the ICPL's website, assisting with catalog development, and helping people on the Info Desk, Alyssa has many years of vocal practice and experience.
Amanda Ray (Adult Services Supervising Librarian, electric guitar, accordion, kazoo, vocals): Amanda played school orchestra all through grade school, founded wizard rock band The Cheering Charms, and was a former regular at Metal Mondays (hair metal karaoke) at Cumberland's bar (R.I.P.) in Charleston, SC.
Brent Palmer (IT Coordinator, acoustic guitar)
Peter Fegley (Senior Development Assistant, drums, other musical talents tapped into as needed): Peter has 25 years of music experience playing drums/percussion, piano, bass, and guitar.
Paul Bethke (Collection & Children's Services librarian, cataloger of mostly non-print materials, BookMobile, bass guitar, general enabler and keeper of forward motion): Paul has been involved with a number of local bands over the last 25 years, most currently with Arthur Itis and the Decrepitones, Wandering Pint, and SloMoBop, doing rock, blues, pop, alt, and jazz covers.
Categories