Posted by Kara on Thursday, Jul 11, 2019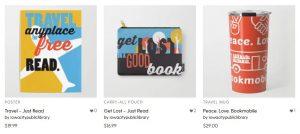 Have you ever admired the graphics at Iowa City Public Library? Have you ever wanted to own one of the cool ICPL t-shirts staff wear? If so, Society6 can help!
Many of our most awesome graphics, including ICPL Bookmobile graphics, are available at Society6 and can be printed on t-shirts, mugs, pillows, wallets and much more. Just navigate to society6.com and search for "Iowa City Public Library." Or, you can click on THIS LINK.
Proceeds from all sales of ICPL items on Society6 goes to the Iowa City Public Library Friends Foundation.  The Foundation supports the Library in many ways including funding Summer Reading Program, purchasing Library materials and supporting special guests or programs.
If you buy something with an ICPL graphic on Society6, you'll be admired for your style and you will support the Library.
Inside tip: Society6 runs a lot of sales and offers many coupons. Make sure you takes advantage of that when ordering.
Categories