Posted by Kara on Tuesday, May 16, 2017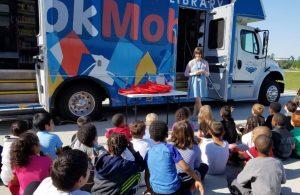 We are having fun introducing the Bookmobile to our community! The joy on the faces of people, especially children, when they come onto the Bookmobile and see all the wonderful books and movies is heartwarming!
Last week the Bookmobile visited a number of elementary schools. The picture in this post shows Alexander Elementary students hearing about the Bookmobile. One student commented, "It's like the Batmobile ... but it's the Bookmobile" and another said, "I want to live here!" I feel the same way!
This morning the Bookmobile was at Oaknoll Retirement Residence and this afternoon it was at Cole's Community on South Riverside Drive. We had a steady stream of friends come out to see the new Bookmobile. Our Farmer's Market visits on Saturdays from 8AM-Noon have been very busy and we've checked out over 100 items each week. A schedule of the special upcoming stops is available at http://calendar.icpl.org/series/bookmobile.
Our official Summer Schedule begins at Noon on Thursday June 1 at Frauenholz Miller Park, 4329 St. Patrick Drive, Iowa City. The Summer Schedule runs from June 1 to August 18. More information is available at www.icpl.org/bookmobile. You may download a PDF of our schedule HERE.
As of today, there are 2,729 items in the Bookmobile collection. Of those, 52 books in the Adult Collection are checked out - this includes Fiction, Young Adult, Comic and Nonfiction. There are 45 DVDs checkout out and 312 Children's Books checked out. When you look at Children's Books and DVDs together, 20% of the Children's collection is currently checked out. That's pretty amazing for such a new service!
Come out and see us on the Bookmobile! It's not the Batmobile, but it is awesome!
Categories
Recent News