Posted by Jason on Monday, May 22, 2023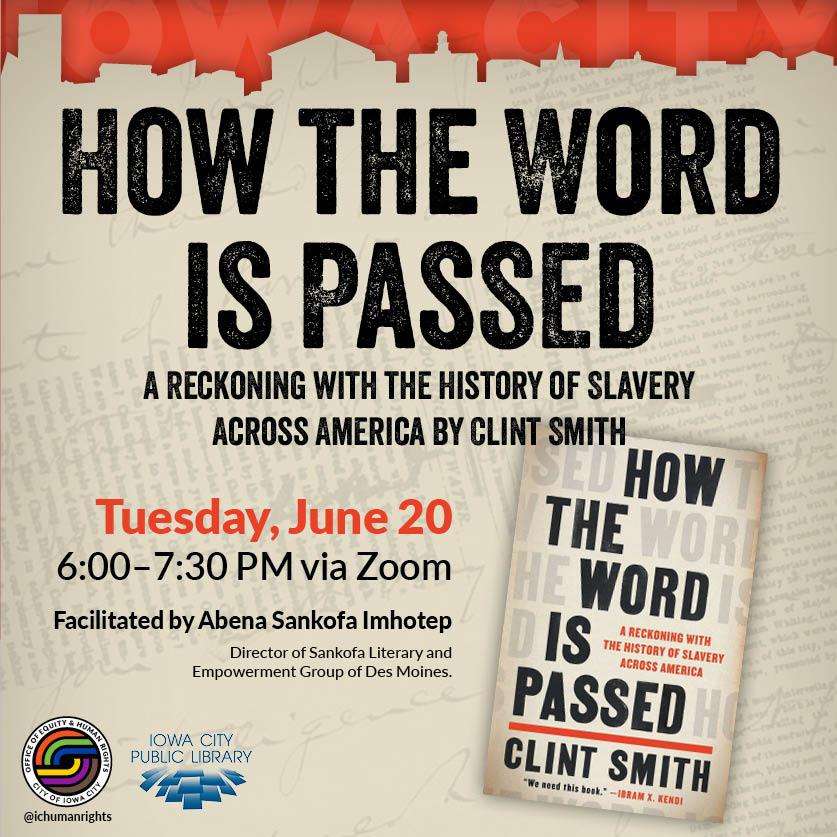 In honor of the Juneteenth holiday, the Office of Equity and Human Rights and the Iowa City Public Library are hosting a virtual discussion on How the Word is Passed: A Reckoning with the History of Slavery Across America by Clint Smith.
The program will take place from 6-7:30 p.m., Tuesday, June 20, 2023, via Zoom. Pre-registration is required. You can sign up here. For those without Zoom access, join Adult Services Librarian, Jason, in Meeting Room D.
The program will be facilitated by Abena Sankofa Imhotep, Director of Sankofa Literary and Empowerment Group of Des Moines. 
A deeply researched and transporting exploration of the legacy of slavery and its imprint on centuries of American history, How the Word Is Passed illustrates how some of our country's most essential stories are hidden in plain view—whether in places we might drive by on our way to work, holidays such as Juneteenth, or entire neighborhoods like downtown Manhattan, where the brutal history of the trade in enslaved men, women, and children has been deeply imprinted. - Hachette Book Group 
The Iowa City Public Library has copies of the book available for checkout in various formats and will have a limited number of paperback copies for giveaways as well. Stop by the Info Desk on the 2nd floor, call 319-356-5200, or chat/email via icpl.org/ask with any questions.

The Office of Equity and Human Rights is offering a limited number of complimentary copies of the book to persons who reside in Iowa City and who would not financially otherwise be able to participate in the book discussion. To request a copy, please email humanrights@iowa-city.org or call 319-356-5022.

If you will need disability-related accommodations in order to participate in this event, please call 319-356-5022 or humanrights@iowa-city.org. Early requests are strongly encouraged to allow sufficient time to meet your access needs.
Categories