Posted by Kara on Tuesday, Feb 6, 2018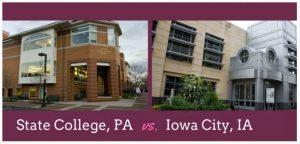 The Iowa City Public Library is in the running for the best library in the United States, advancing to the Sweetums16 Round! KNOPE, we are not kidding! Vote for ICPL at this link and help us advance to the Group of 8. Voting runs through Friday February 9th.
The Sweetums16 Round is a B1G showdown pitting Iowa City Public Library against the public library that serves Penn State.
The Engaging Local Government Leaders (ELGL) group sponsors the Leslie B. Knope Award to highlight "organizations and individuals that motivate, inspire and attract the best and brightest to local government."
Astute readers and fans of NBC's "Parks and Recreation" know Leslie B. Knope, played by actress Amy Poehler, is a local government champion in the town of Pawnee, Indiana. Unfortunately, Knope dislikes libraries because of the Pawnee library director, Tammy Swanson, who is the ex-wife of her friend and co-worker. Fortunately ICPL doesn't employ anyone named Tammy ... and we have an awesome Library Director!
One of Leslie Knope's goals is to make her town more fun. Join in the fun and vote for Iowa City Public Library for Best Library in the United States!
Recent News