Posted by Kara on Sunday, Sep 1, 2019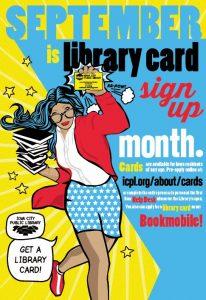 September is National Library Card Sign-up Month. If you don't have a Library Card, or know someone who doesn't have a Library Card, head to the Downtown Library or the Bookmobile to get your Library Card.
Anyone in Iowa who lives in a community that supports a public library may get a Library Card from the Iowa City Public Library. To save time, you may pre-register at icpl.org/cards. Pick-up your Library Card at the Help Desk or Bookmobile. All you need is a photo ID. If your current address is on your photo ID, you are all set. If not, bring a recent utility bill, copy of your lease, or official mail to verify your local address.
Information about children and Library Cards and different card types is available at icpl.org/cards.
What can you do with your Library Card? Beyond checking out traditional Library materials such as books and movies, your Library Card becomes your ticket for much, much more! Did you know the Library checks out Toys? Book Club Kits? Video Games? Giant Chess and Checkers?
Do you have Bare Wall Syndrome? Check out 2 art prints for two months from our Art-To-Go collection.
Need Internet access? The Library has many computers available for public use. Log-in with your Library Card for two free hours of use each day.
Need to catch a ride home from Downtown Iowa City on an Iowa City Transit Bus? Present your Library Card to any public service desk at the Library and get a pass for a free ride home. There is a limit of two free bus passes per week with our Ride and Read program.
If you live in our service area (Iowa City, rural Johnson County, University Heights, Hills, Lone Tree) you may use your Library Card to:
Access ICPL's Digital Library including eBooks, eAudiobooks, Kanopy movie streaming, Digital Magazines, New York Times Online and the Local Music Project. Access is FREE. All you need is your Library Card number and password.
Browse Consumer Reports online to figure out which refrigerator to buy via our Online Resources collection.
Browse the Chilton Library in our Online Resources collection to learn how to fix your car or truck.
There's so many things you can do with your Library Card! If you have questions, give us a call at 319-356-5200 during regular Library hours, ask us a question online, or stop by the Library or Bookmobile. We are happy to help!
Categories