Posted by Sam on Friday, Oct 16, 2020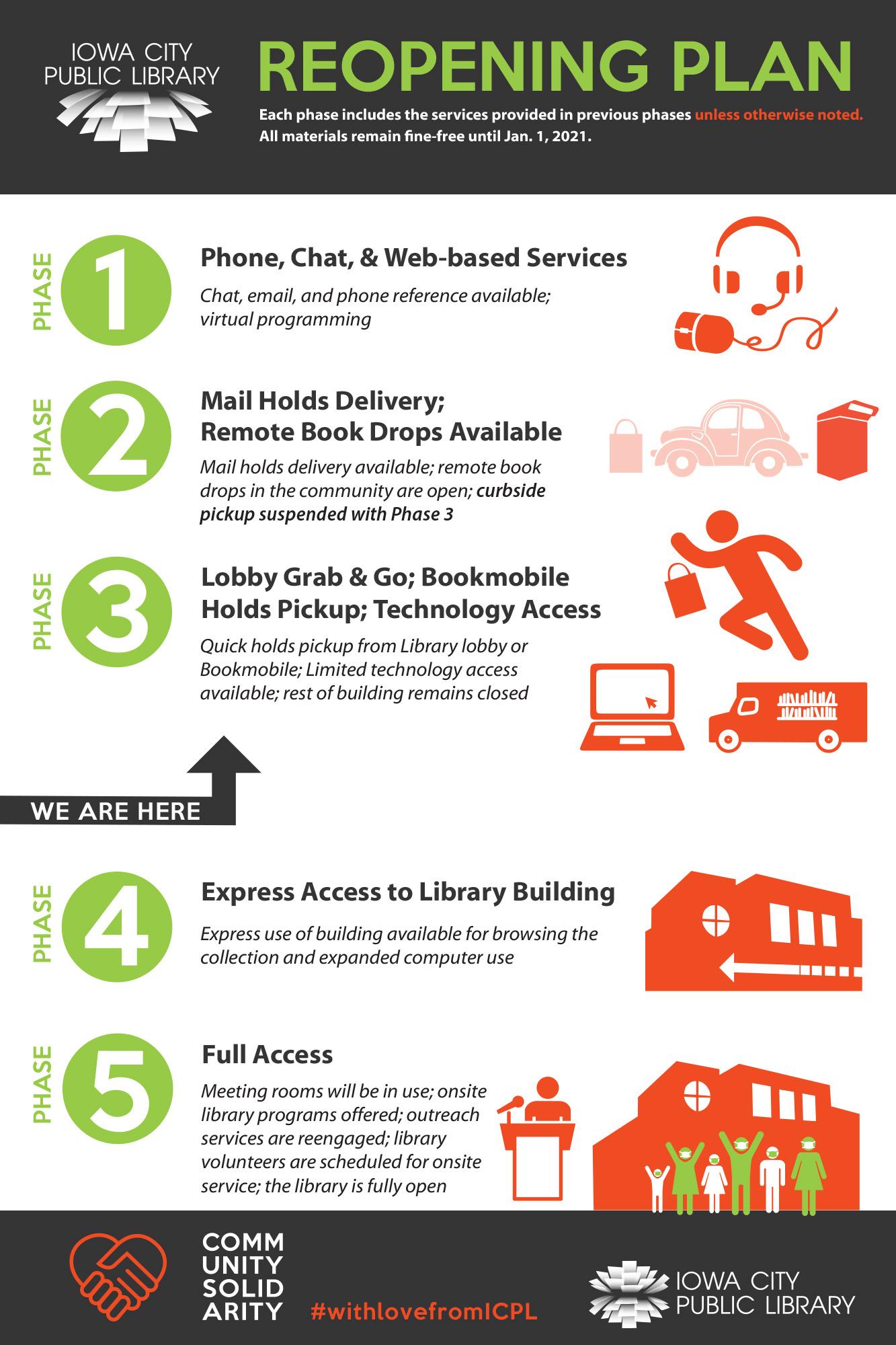 As Iowa City Public Library responds to the needs and challenges of this global pandemic, building tools to stay in touch has been uplifting work. It can be difficult to stop and count the wins during these hard and strange times, but celebrating forward steps in this journey helps determine where we are going next. 
Recent celebrations come in the form of serving more of you each day through the Lobby Grab and Go service. In this new service phase, we are able to suspend the need for an appointment so you can stop inside the lobby Monday through Saturday, 10 a.m. - 6:00 p.m. to register for a Library card, ask questions about your account, and pick up your holds.
The Bookmobile crew is on the road again, checking out holds, and sharing information about services like Staff Picks. Seeing you out and about and supporting your informational needs in this capacity has been a tremendous joy. 
Adding Computer Access to our growing service options is exciting as well. Socially distanced tech assistance and computer stations are installed on the first floor along the Library meeting rooms. Hand sanitizer and masks are available as well as plexiglass barriers and surface cleaners. We are so enthusiastic to help with questions, assist with digital navigation, and provide essential access to the Internet. 
Next, we anticipate serving as an early satellite voting station for the November 3 general election. Offering space for early voting has been a long-standing tradition for the Iowa City Public Library and we are glad to be able to do so this year. Early voting at the Library begins on Monday, October 19 where all registered Johnson County voters are welcome to cast their ballots if they have not yet done so. 
Some say progress is a staircase rather than a doorway. If this is true, these recent service updates are steps guiding us forward. We are happy to take each step of this journey with you, during the uncertain moments and through each shared triumph. 
Categories