Posted on Friday, Mar 1, 2013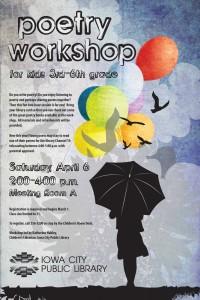 Do you write poetry?
Do you enjoy listening to poetry and perhaps sharing poems together?
Then this fun two-hour session is for you! Bring your library card so that you can check out some of the great poetry books available at the workshop.
All materials and refreshments will be provided.
New this year: Young poets may stay to read one of their poems for the library Channel 10 telecasting between 4:00-5:00p.m. with parental approval.
Registration begins March 1. Class size is limited to 35.
To register, call 356-5200, or stop by the Children's Room Desk.
Workshop led by Katherine Habley, Children's Librarian, Iowa City Public Library
Date: Saturday, April 6, 2013
Time: 2:00-4:00p.m.
Location: Meeting Room A
###
Follow us on Facebook:
Recent News