Posted by Jason on Thursday, Feb 28, 2013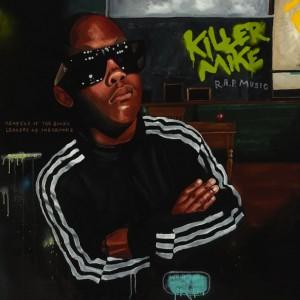 This was an album that, for whatever reason, I kept putting off listening to last year.  I finally got around to it after seeing how many "Best Of 2012" lists included Mike and it now tops my "Best of 2012 that I didn't listen to until 2013" list.
This is an aggressive album both musically and lyrically.  The production is tackled by El-P who is known for his dark, tense beats, mixing synths, grime and classic samples; they are a soundtrack to a dystopian urban future.  His soundscapes are detailed and crafted with Mike's delivery and content in mind.  A less skilled rapper would be swallowed by these sounds but Mike's swagger and righteous anger fit hand and glove with El's beats.
Lyrically this album is message-heavy with nods to classic hip hop (Eazy-E and Public Enemy are referenced) as well as R&B/Soul/Jazz/Blues legends that infused politics into their art (Nina Simone/Miles Davis).  His song "Reagan" details government and political lies ("We invaded sovereign soil going after oil, taking countries is a hobby paid for by the oil lobby"), "Don't Die" is a story of running from dirty cops ("Cause if I get caught it's my life they terminate, or stick me in a cell at Guantanamo Bay ... I'll be an outlaw before I ever behave, I'll die a free man before I live like a slave, and nothing changes if they catch me today, f*#k the police is still all I gotta say.").
For me, Mike is probably at his best when he's rapping about the difficulties of growing up poor in a racist society and the impact family and music can have.  He ends the album with two inspiring tracks "Willie Burke Sherwood" and the title track: "What I say might save a life, what I speak might save the street, I ain't got no instruments but I got my hands and feet ... And the words that I put in the wind, coming back like a boomerang, when I take this microphone, point it at the crowd they start to sing."
Be sure to check out Killer Mike live at the Blue Moose on April 6th as part of the Mission Creek Music Festival!
Recent News