Posted by Kara on Thursday, Jun 14, 2018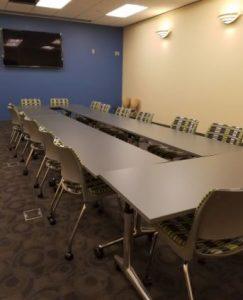 The Library has 5 meeting rooms available for community organizations to use free of charge. Information about each room is available on the Library's webpage and includes details about room capacity, standard set-ups, equipment in the rooms and hours the rooms are available.
The Library's meeting rooms are in high demand. In FY17 there were 1,497 community meetings with an estimated attendance of 30,883. In addition, there were 2,055 Library uses of the meeting rooms for programs, events, training and meetings.
Community groups are welcome to use the Library's meeting rooms. According to Library Board Policy, "Rooms are available to non-profit corporations (defined as those entities granted tax-exempt status by the IRS under section 501(c)(3) or other tax exempt sections of the Internal Revenue Code), a candidate's campaign committee (as defined in Iowa Code §68A.102(5)), a political committee (as defined by Iowa Code §68A.102 (18), a non-profit citizen's group that provides appropriate contact information, a governmental subdivision, or a department/division/bureau of a governmental subdivision"
Please note - Rooms are not available for private parties or use as a regularly scheduled classroom or study space by educational institutions.
To schedule a meeting room, navigate to the Meeting Room information webpage and click on "Request a Meeting Room." You may also call the Library at 319-356-5200 during regular business hours or stop by the Library's Help Desk or Information Desk.