Posted by Maeve on Friday, Sep 2, 2016
I've had a library card since I was a wee one.  I grew up in Tipton, Iowa and spent hours and hours at the library. My mom was on the library board so I think I even got to go to the library when it was closed.  I can still conjure up the large red leatherette piece of furniture in the children's section of the library where I was often sprawled reading Dr. Seuss books over and over and over again.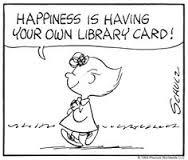 When I was old enough to read nonfiction books I really started to use my library card.  There was the whole world to explore and those nonfiction books and the World Book Encyclopedia made me an expert on everything, or so I thought.  We had books at home and at school and there was the annual Scholastic paperback book order, but the library had more books, and books for everyone and I had a card, a passport to everywhere.
September marks the American Library Association's Library Card Sign-Up Month when the Iowa City Public Library and other libraries across the nation encourage everyone to get a library card or to renew a card that has expired.  Libraries want people to use their services and at the core of our services are the books and other materials we lend.  This past April, the Atlantic Monthly, published Is the Library Card Dying?,  a piece by Sara Polsky that helped me understand that while a library card acted as a passport for me, it served an entirely different function for a library.
"Public libraries, funded by municipal rather than member dollars, began appearing in the northeastern U.S. in the early to mid-19th century. Cards were essential at these libraries, too. The card was the "arbiter of all disputes" when it came to missing books, wrote the St. Louis librarian Frederick M. Crunden, "and since we have had this respected referee there have been but few contested cases."
Borrower requirements varied by library, and so did the types of library cards issued. At the St. Louis public library, adults received white cards and minors blue ones, and cardholders had to identify themselves as residents, taxpayers, students, or local employees. The cards for minors came with a warning that "only books suitable for young people will be issued on this card." Adults were allowed second cards, but were not allowed to use them to take out novels. Teachers and members of the clergy could have three cards, with the third for professional use.
Late returns and card losses carried penalties. A St. Louis library user who lost a card circa 1900 had to "pay fivepence and wait a week for another," Crunden explained. The dual penalty was meant to send cardholders searching harder for their lost cards, but the fine and the waiting period targeted different library users: "Most men will not much mind the fivepence," Crunden theorized, "but if they find they also have to wait a week, they bethink them that perhaps they can find the card, and they go home and do so. Women and children, on the other hand, are generally willing to wait the week; but when it comes to the fivepence, they conclude it will be cheaper to make further search for the card." (Crunden's gender essentialism came with a heavy dose of moralizing. "Rules," he wrote, "should be so framed and so applied as to make careless people pay the cost of their carelessness.")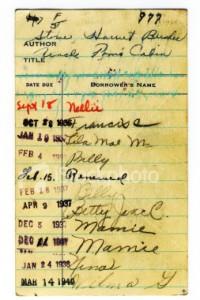 Library cards are different now and patron confidentiality is respected and enforced. However, when I was little and the Tipton Public Library's collection wasn't computerized, each book had a pocket and in each pocket was a card with the name of the person who had borrowed the book before.  I was fascinated with who else wanted the book that I was about to borrow.  Why did my neighbor down the street want to read about dog breeds and why did my teacher's husband  have an interest in the Easter Islands.  Those days are long gone and it would take a court order to find out who had which book checked out (Iowa Code sections 22.2 and 22.7(13)).  Now if you are interested in who has read a book you liked, Goodreads will help, but you will just have to speculate on who in Iowa City might have also opened the pages of a book you just finished.
If you are reading this post, you are probably already a library card holder,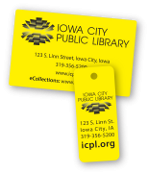 but I bet you have friends or neighbors who might not realize that a card is free and waiting for everyone at the Iowa City Public Library.    And if you'd like to see an enormous collection of library cards of all types, retired librarian Larry Nix keeps a fascinating website.
Categories
Recent News